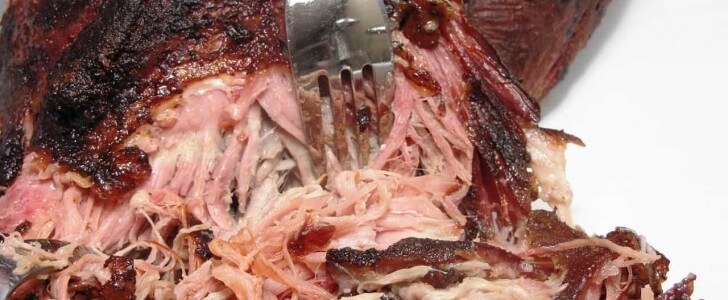 If you are looking for an opportunity for an extra special meal over a long weekend or when you've got some extra time on your hands, this recipe is for you! This recipe is perfect for four to six people and takes 18 to 24 hours to cook.
Sous Vide Pulled Pork Recipe
Ingredients
5-7 lbs pork shoulder
1 tsp liquid smoke
¼ cup paprika
¼ brown sugar
3 tbsp kosher salt
1 tbsp mustard powder
1 tsp adobo powder
1 tsp black pepper
2 tsp garlic powder
1 tbsp dried oregano
1 tbsp coriander seed
½ tsp cayenne pepper
Instructions
Before you can get started, make sure you have a piece pork shoulder between five and seven pounds. It is often helpful to have some liquid smoke on hand if possible. The ingredients used for the spice rub are a quarter cup of Paprika, a quarter cup of brown sugar and three tablespoons of Kosher salt. You will also want to have one tablespoon of whole mustard powder, 1 teaspoon of ground black pepper, two tablespoons of garlic powder, and one tablespoon of dried oregano. Finally, one tablespoon of coriander seed, one-half teaspoon of cayenne peppers, and one teaspoon of adobo is a good option to include in the rub.
Now that you have your ingredients ready, be sure to set your sous vide to 165ºF for shredded pork. If you are looking for sliceable pork, use 145ºF.
While your wait for the sous vide to reach the proper temperature, get started on your dry rub. Combine the paprika, brown sugar, salt mustard seed, adobo, black pepper, garlic powder, and dried oregano to your spice grinder. Be sure your spice grinder is set to reduce your rub ingredients to a powder like consistency. Finally, add in coriander seed and red pepper flakes.
Remove the rub from the spice grinder and save three tablespoons of the dry rub to use later. Apply the rest of the rub to the shoulder generously. Next, add your pork to a sealable bag used to use in your sous vide cooker. If you are using a Zip-lock be sure to use the displacement technique. Place the meat in a ziploc bag and close the bag leaving only about an inch or so open. Slowly lower the bag into the water bath allowing the heat and water to force the air out of the opening of the bag. Keep lowering the bag slowly and carefully into the water until almost all of the air is gone. Seal the remaining portion of the bag and slowly drop it into the water.
Your pork will remain in the water bath for 18 to 24 hours. When you are sous vide cooking for a long period of time evaporation is something you need to be aware of. If you are using a polycarbonate tub they make special lids with a cutout for your sous vide machine. If you are using a normal pot or another cooking vessel a piece of foil that you custom form is your best bet.
Once the pork has finished cooking, you can continue the finishing process or refrigerate it for up to a week.
Remove the pork from the bag and blot any excess moisture using a paper towel. Take the reserved rub and apply it to outside of the meat.
OVEN: Preheat your oven to 300ºF. Use foil to line a baking sheet and place a wire rack on top of it. Place the pork on the baking sheet for 90 minutes. The outside of the pork should have a dark brown crust. Remove the pork from the oven and allow it to cool.
Using an electric knife cut your pork down into manageable chunks. Take these chunks place them on a cutting board and then using two standard forks start to shred the meat into small slivers. It takes a little practice to get right, but you are looking for shredded chunks about an inch to inch and half in length
After shredding, you can combine the pork with pickles, creamy coleslaw, buns, and your favorite barbecue sauce for an amazing meal.

photo credit:Wikipedia