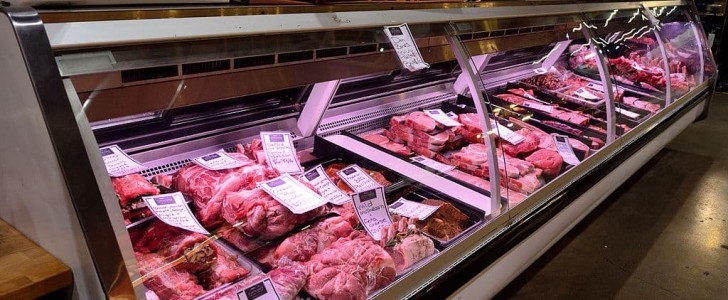 Buying pork can be overwhelming if you don't know the difference between cuts. Flavor, texture and cooking methods can all differ depending on the cut of pork you choose. To help you decide which cut of pork is best suited for your cooking needs, this guide will help you understand the standard options typically available to you.

To start, the best pork is typically organic or free-range. The leaner the cut the better, however, the fat on pork can be utilized for maximizing other flavors in your dish. For example, the pork can enhance the flavor of potatoes and other vegetables that you serve.
LOIN
The classic roasting part of pork, the loin is traditionally served with applesauce and other sweet, fruity flavors. The loin is an extremely versatile cut of meat, it can be cooked with the bone or without, depending on the dish you are serving. The bone may be removed in order to replace with stuffing or fruit, an especially wonderful combination for a holiday feast. The skin can be cooked to crisp, or removed to marinate the cut before roasting. After cooking the loin, it is suggested to allow the meat rest time before carving in. Grilling and pan-roasting are also viable ways of cooking loin chops, and they cook beautifully with pan-roasted vegetables and spices.
SHOULDER
Pork shoulder is an extremely lean part of the animal, leading to especially strong flavors. This cut of pork is best suited for stews or slow-cookers, where the meat is tender enough to pull easily from the bone and melt in your mouth. However, if steak is more up your alley, the shoulder tends to be easy to fillet and used for barbecuing or grilling. If using pork on top of rice, pasta or other grain dishes, the shoulder can be minced or diced into smaller, bite-sized pieces, too. An ideal cooking method for cooking shoulder is to wrap liberally with tin foil to reduce moisture loss and keep it in the oven at around 150ºC/300ºF. Keep in the oven for 4-5 hours, giving you ample time to prepare your side dishes.
TENDERLOIN
Part of the loin cut, the tenderloin is an especially tender part of the pork's ribcage. The methods for cooking tenderloins vary; it can be cooked whole or carved into tiny spheres and fried in the pan. This is the leanest part of the pork, so it is the most health-friendly choice. A good idea is to marinate the tenderloin for a few hours before cooking at a high-degree temperature. Keep checking the middle for a slight pinkish color, and be careful not to overcook as moisture escapes quickly at high temperatures and is what makes this cut so delicious. Let the fillet rest after cooking so moisture has a chance to settle inside the meat.
RIB CHOP OR CHOP
Rib chops are typically barbecued or grilled. Rib chops taste wonderful with a variety of fruits and vegetables, especially apples and spices. Don't be afraid to add some sweet or brown sugar flavors to your rib chops, this adds a rich, colorful flavor to an already mouthwatering dish. The best method for cooking rib chops is in a pan or on the grill set at high, sizzling heat. Keep turning the meat so it forms a nice, solid crust on the outside.
LEG
Pork legs are not high in fat, and they lose their moisture when they are roasted slowly. They are typically kept whole in roasts, or they can be cut into smaller pieces or thinly sliced. The ideal is to leave the meat on the bone during cooking because it keeps moisture locked in and supplies extra juice for gravy. Be careful when grilling pork legs, the moisture escapes quickly with this cut and can dry out. To combat this, marinate or tenderize the meat before cooking.
BELLY
The fattiest cut, this is the most tender part of the pork. The best method for cooking pork belly is slow-roasted at a low temperature. Being very high in fat, it is also ideal for bacon strips. Before roasting it in a stew or soup, be sure to remove some of the fat. Add a variety of spices like cayenne pepper, paprika, thyme and garlic for a smoky, warm flavor.
CRACKLING
The pork skin: an overlooked part of the cuts, it can be trimmed off and salted and roasted or added to stews. The skin can be scored into long strips and pan fried, set on a baking tray in an oven at high heat, or on a scorching grill with copious amounts of salt. This is an extremely rich, tasty and easy way of utilizing all of the pork or any leftovers that you may be looking to incorporate into other dishes. They are also great snacks and are a popular choice among finger foods and appetizers.