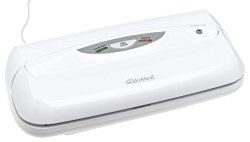 Seal-A-Meal VS107 Vacuum Food Sealer
(
The Seal-A-Meal VS107 is best suited for people who won't be using it on a regular basis. Frequent users will want a model with more functionality. It's low price and small size make this a great value compared to other models.
Cons
Doesn't work with liquids or marinade mode
Will usually crush delicate foods such as lettuce
No built in bag storage
Seal-A-Meal VS107 Review – Product Features | Videos | Product Comparison | Product Specifications | Seal-A-Meal VS107 Instruction Manual
Seal-A-Meal VS107 Product Features
The Seal-A-Meal VS107 is a basic entry level vacuum sealer. This product will seal basic food items in a vacuum tight seal, it will not handle foods sealed in liquids or delicate food that will crush such as lettuce. There is no accessory port for sealing Ziploc bags, canisters or containers. If you need a small, lightweight, vacuum sealer that you will only use occasionally this will be fine. Regular users should go for a model with more features and functionality.
Costs 1/3 price of higher end models
Easy to use, close the lid and use a 1 touch button
Easy to clean dishwasher safe drip tray
Small footprint makes it easy to store when not in use
Seal-A-Meal VS107 Videos
Seal-A-Meal VS107 Product Comparison
Model No.
Seal-A-Meal VS107 Review
FoodSaver V2244 Review
Operation
Manual
Manual
Seal Bar Length
11"
11"
Removable Drip Tray
No
Yes
Accessory Port
No
Yes
Starter Kit
No
Yes
Food Settings
No
No
Built-in Roll Storage
No
No
Built-in Cutter
No
No
Automatic Bag Detection
No
No
Pulse Mode
No
No
Marinate Mode
No
No
Canister Mode
No
No
Container Mode
No
No
Ziploc Bags
No
No
Retractable Handheld Sealer
No
No
Warranty
1 Year
5 Year
Size
16" x 6" x 8"
5.9" x 10.6" x 17.7"
Weight
11.2 pounds
5.7 pounds
Price
$
$55.00
Rating
3.0 stars
Seal-A-Meal VS107 Review
3.5 stars
FoodSaver V2244 Review
Seal-A-Meal VS107 Product Specifications
Physical Dimensions: 16″ x 6″ x 8″
Weight: 11.2 pounds
Item Model Number: VS107
Electric: 120V 3 prong plug
For more information you can check out our our Helpful Guides below:
You can see all of our guides from the links below: