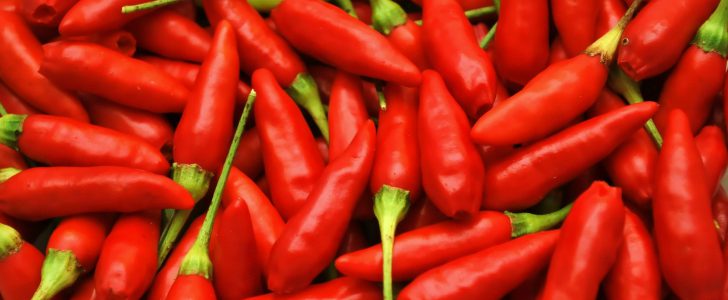 The Scoville scale is a measure of how hot spicy food is. Strictly speaking, when we are talking about spice it's not literally heat, it's "piquance." The heat of a chili pepper comes from something called capsaicin, and the scale measures how much of it is in the food. The scale was created by Wilbur Scoville.

The chilis with the hottest ranking on the Scoville scale have a ranking of over a million, such as the Naga Jolokia. Pure capsaicin has a rating of between 15 and 16 million. Currently, the worlds hottest pepper is the Carolina Reaper.
Not every pepper of the same species has the same measure on the scale. The amount of capsaicin in the pepper can change quite a bit based on its lineage, climate, and even the soil. Some members of the same species can be ten times hotter than another.
Wilbur Scoville was a chemist working for a pharmaceutical company. He developed the scale in 1912. The scale is not very exact. Essentially, the scale is a measure of how many times the chili needs to be diluted before a panel of tasters can just barely taste the "heat." As an example, jalapenos have a Scoville rating between 2,500 and 8,000. This means that between 2,500 and 8,000 times more water than jalapeno extract needs to be present in a solution before the heat can't be detected by a human.
The method for measuring the heat of a chili pepper has changed since the creation of the scale. Today it is typically measured using a process known as high-performance liquid chromatography. This detects the amount of capsaicin and other spicy chemicals in the food. A mathematical formula is used to determine the heat level. One part capsaicin per million corresponds to about 150 Scoville units.
The heat in a chili pepper can come from substances other than capsaicin, such as those found in black pepper and ginger. Capsaicin also has relatives known as capsaicinoids. These spices are unique in that the body can adapt to them. People can effectively develop a higher and higher tolerance. The great thing about this is that food lovers can continue to try new foods. The more spice they are able to handle, the wider the range of foods that they can eat. A wide variety of flavors are available from all of the different chili peppers around the world. Capsaicin can also release endorphins, which can make a person feel pleasant for a few hours. This is why it can become mildly addictive for some people.
There is some evidence that capsaicin may cause cancerous cells to die off. In addition, most peppers that are high in capsaicin are also high in calcium and vitamin C, making them healthy.
| | |
| --- | --- |
| Scoville Heat Units | Types of Peppers |
| 15,000,000–16,000,000 | Pure capsaicin |
| 8,600,000–9,100,000 | homocapsaicin, homodihydrocapsaicin, nordihydrocapsaicin |
| 5,000,000–5,300,000 | Law enforcement grade pepper spray |
| 855,000–1,359,000 | Naga Viper pepper, Naga Jolokia pepper |
| 350,000–580,000 | Red Savina habanero |
| 100,000–350,000 | Guntur chilli, Habanero chili, Scotch bonnet pepper, Datil pepper, Rocoto, Piri piri, Madame Jeanette, Jamaican hot pepper |
| 50,000–100,000 | Bird's eye chili, Malagueta pepper, Chiltepin pepper, Pequin pepper |
| 30,000–50,000 | Cayenne pepper, Ají pepper |
| 10,000–23,000 | Serrano pepper, Peter pepper |
| 2,500–8,000 | Jalapeno pepper, Guajillo pepper, New Mexican varieties of Anaheim pepper, Paprika, Tabasco sauce |
| 500–2,500 | Anaheim pepper, Poblano pepper, Rocotillo pepper, Peppadew, Padron pepper |
| 100–500 | Pimento, Peperoncini, Banana pepper |
| 0 | No significant heat, Bell pepper, Cubanelle, Aji dulce |