Pepper steak is one of the classic take out items of Chinese food restaurants and Take Out Stands across the country. While it bears little resemblance to its original dish (which contained pork, by the way), it's still a fast and easy to prepare meal that's quite delicious.
To start off, we're going to need about a pound of pepper steak meat. This is steak that has been cut across the grain and is available in most major super markets.
Even though the meat comes pre-cut into strips, unless you're feeding a clan of angry Huns, you're going to want to cut the meat down to a more manageable size. I like to cut the strips in half both horizontally and vertically. This creates a number of benefits: the smaller strips will cook faster and more evenly, the added surface area lets you introduce more flavors, and, if the meat is similar in size to the peppers, the final dish looks that much nicer. Whenever I work with meat, I use a plastic cutting board to proven cross contamination.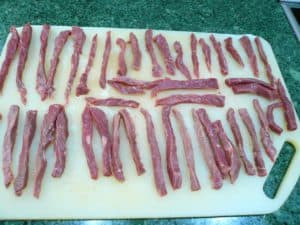 Once that's done, I transfer the strips to a ziploc bag and start on the marinade.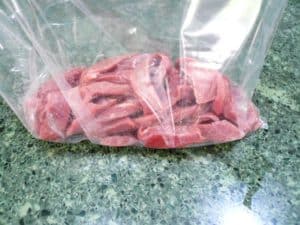 Because the pepper steak is cut across the grain, this gives you lot of opportunity to introduce flavors. I use 2 TBSP rice wine vinegar, 4 TBSP Soy Sauce, 1 TBSP Ground Ginger, and 2 TBSP Cornstarch as a thickener.
I like to mix my marinade together before pouring it onto the meat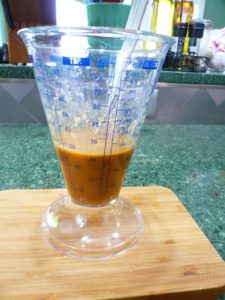 Pour the marinade into the bag over the meat then roll the bag trying to force as much air out as you can without spilling the liquid onto the counter. Forcing the air out make it smaller and easier to store and puts more of the meat in direct contact with the liquid. If you do it right, you can get all of the meat to touch the marinade. Seal up the bag, keeping as much air out as possible, and place it in the refrigerator for 2-3 hours.
Next, we can get to work on the sauce. Start with 4 TBSP of chicken stock, 2 TBSP Soy Sauce, 1 TBSP Rice Wine Vinegar, 1 TBSP Worcestershire Sauce, 1/2 TBSP Sesame Oil.
Again I like to mix all of my ingredients together before hand.
Next, you'll want to thinly slice 2 red peppers, thinly slice 2 green peppers, thinly slice 1 large onion, and finely chop 2 cloves of garlic.
You are also going to need between 2-3 cups of cooked white rice. I like to start mine just before I start to cook the beef.If you have a wok, this is the perfect time to use it; if you don't, you'll just need a large sauté pan like I use. Heat up 2 TBSP of peanut or olive oil in the bottom of your pan. Once it gets hot, add the strips of beef. You don't want to dump all the liquid into the pan, but it's ok if some of it gets in.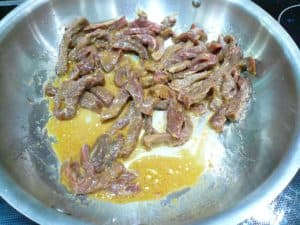 Cook the beef until the outside is browned and you don't see any pink. Be careful not to overcook the beef or it will take on a liver taste, which is definitely not GOOD EATS.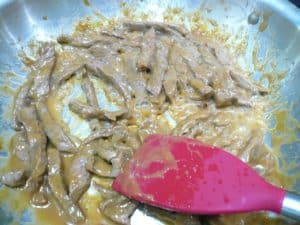 Remove the beef from the pan, add 1 TBSP of peanut or olive oil, and allow it to heat up. Once it's hot, add the pepper strips and onion.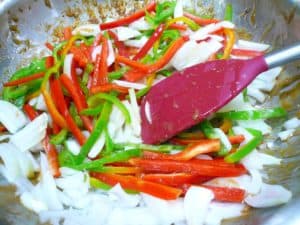 Once the peppers start to soften, add the garlic. Once the peppers look thoroughly cooked and the onion is translucent, add the beef back into the pan and stir it around.
Give the sauce a quick stir and then pour it over the top. Turn the heat down slightly, allowing it to simmer and giving it time for the cornstarch to thicken things up. If there's too much liquid, add a sprinkle of cornstarch; if there's not enough, add a little more chicken stock. Season to taste. Some people like to serve the rice and pepper steak separate. But I'm lazy and like to have less dishes to wash, so I take a casserole pan, cover the outside with rice and then fill the center with the pepper steak.  Your final presentation is your choice.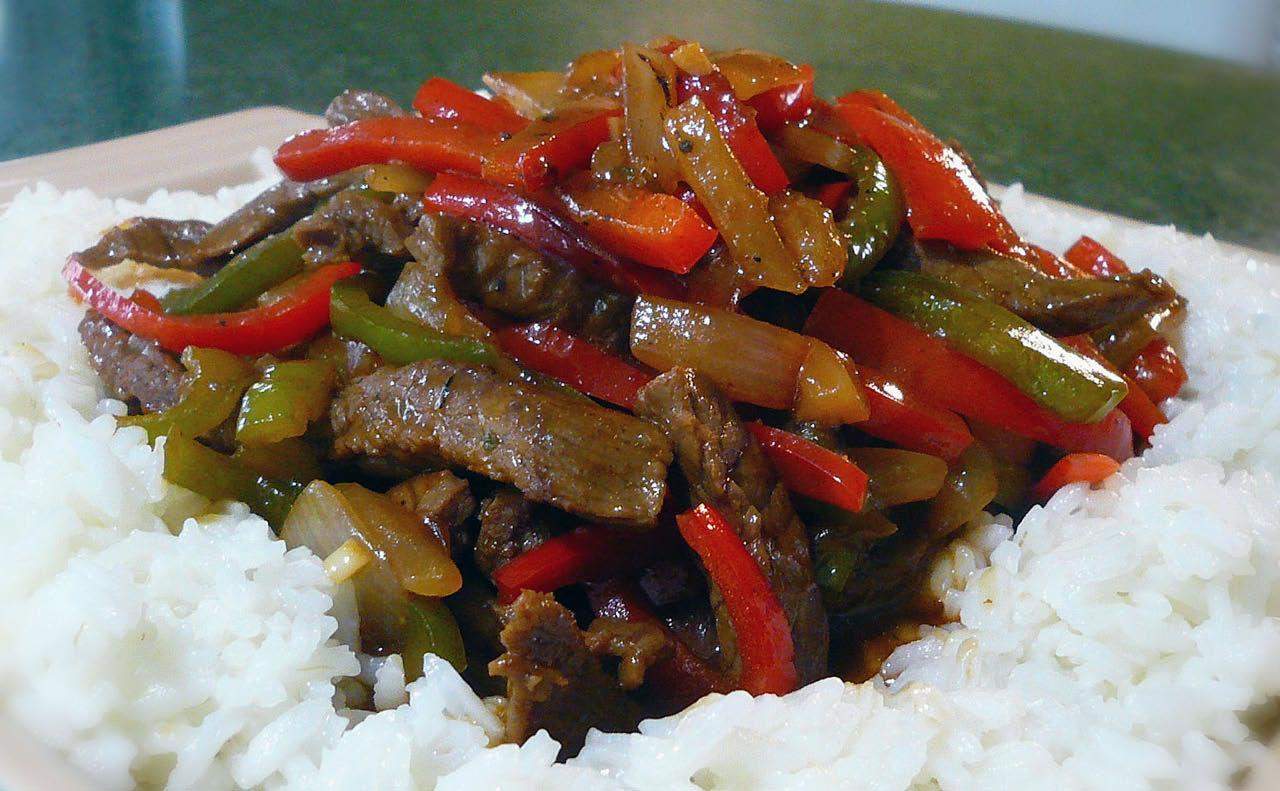 Take Out Style Pepper Steak Recipe
Pepper steak is a fast and easy meal that everyone can prepare at home
Ingredients
1 lb pepper steak beef
2 TBSP rice wine vinegar
4 TBSP Soy Sauce
1 TBSP Ground Ginger
2 TBSP Cornstarch
4 TBSP of chicken stock
2 TBSP Soy Sauce
1 TBSP Rice Wine Vinegar
1 TBSP Worcestershire Sauce
½ TBSP Sesame Oil
2 red peppers, thinly sliced
2 green peppers thinly sliced
1 large onion thinly sliced
3 TBSP peanut oil, divided (you can substitute olive oil)
3 cups cooked white rice
Instructions
Slice the pepper steak down to manageable size.
To make the marinade mix the first four ingredients: rice wine vinegar, Soy Sauce, Ground Ginger and Cornstarch.
Place pepper steak in ziploc bag, pour marinade over steak, remove air and seal bag. Refrigerate for 2-3 hours.
Make the sauce using chicken stock, Soy Sauce, Rice Wine Vinegar, Worcestershire Sauce, Sesame Oil. Stir to combine.
Thinly slice all four peppers and onions, and finely dice garlic.
Start to prepare white rice
Heat 2 TBSP of peanut oil in large sauté pan, once pan is hot add pepper steak, some marinade liquid is fine just don't dump all of it in. Cook until no pink is showing and remove from pan
Heat 1 TBSP of peanut oil. Once pan is hot add sliced peppers and onions. Stir until peppers start to soften then add garlic. Once peppers are cooked through and onion is translucent add beef and stock back to pan. turn down heat.
If mixture is too liquify add some cornstarch. If there is not enough liquid add some more chicken stock. Season to taste.
Remove from heat and transfer to casserole dish to serve.