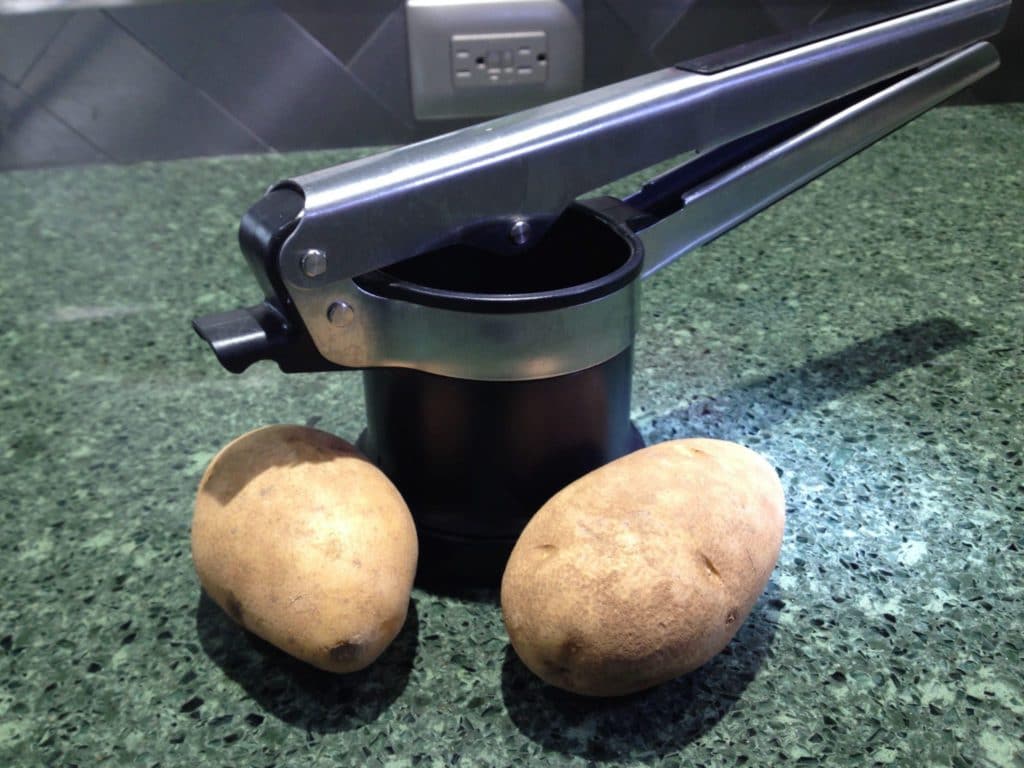 In this article, I'm going to be taking a look at the OXO Good Grips Adjustable Potato Ricer. If you've spent any time shopping for kitchen tools or gadgets, chances are pretty good that you've familiar with the OXO brand and know that they have a reputation for durable, high-quality products. That's certainly true here. The lever part of the product is about 15″ long and made of stainless steel. However, like all OXO tools, it has a soft cushioned grip wrapped around the lever handles, which you will appreciate on holidays like Thanksgiving when you're making up a huge batch of mashed potatoes. A bit of history: the OXO "soft grip" was originally developed for people who had arthritis and had difficulty applying pressure on normal kitchen gadgets. It turns out a lot of folks really liked the soft grip, though, not just people with arthritis. The ricer disc blades are made from a thick piece of stainless steel, and the slots have a smooth edge so your potatoes will come out with a nice delicate texture. Rough edges would produce a lumpy, jagged, and inconsistent texture, not something you usually want in your food.
Uses for a Potato Ricer
A potato ricer is similar to a food mill. It's designed to take larger, bulkier cuts of food and crush and grind them into small, fine chunks and bits. Depending on the size of the holes of the ricer and the consistency of the food, the end result will be something between smooth and creamy like mashed potatoes or something more liquid, like applesauce or baby food. Another advantage of a ricer is that it separates the seeds from the food so, if you're using it for making tomato sauce, it will be seed free. One of the coolest and most useful aspects of this ricer is its adjustable head. You can select from three different settings–coarse, medium, or fine–just by turning the head. (see picture below)
Caring and Cleaning the OXO Potato Ricer
Ok. We all know that you shouldn't put any of your high-quality kitchen tools in the dishwasher. It's a harsh environment and the banging back and forth can sometimes damage sharp edges. That said, most of us have better things to do than spending time hand washing everything, so anything that can go through the dishwasher is a godsend. I've been running my unit through the dishwasher for about a year now, and it's no worse for the wear. However, to properly clean it, you do have to open the unit up all the way, so it does take up quite a bit of room in the top rack of your dishwasher. Additionally, you will have to remove the adjustable head to get rid of any food particles trapped between the disks. You'll have to line up the markings and jiggle it around a bit to get it to come apart. To be honest, it's actually harder than it should be to remove the head, but eventually you get the hang of it. (see picture below)
Pros of the OXO Potato Ricer
As I already mentioned, the high-quality construction and adjustable settings are two of the best features of this kitchen gadget. Unless you drop it out of second-story window onto a concrete sidewalk, I can't see it breaking. It's that tough. Despite its strength, it's not heavy, unwieldy, or awkward to use. Another great feature of this tool is the hook on the end. The hook allows you to rest the unit over a pot or large bowl, this is an especially helpful feature that leaves both of your hands-free when you are trying to load the hopper with really hot or really wet food.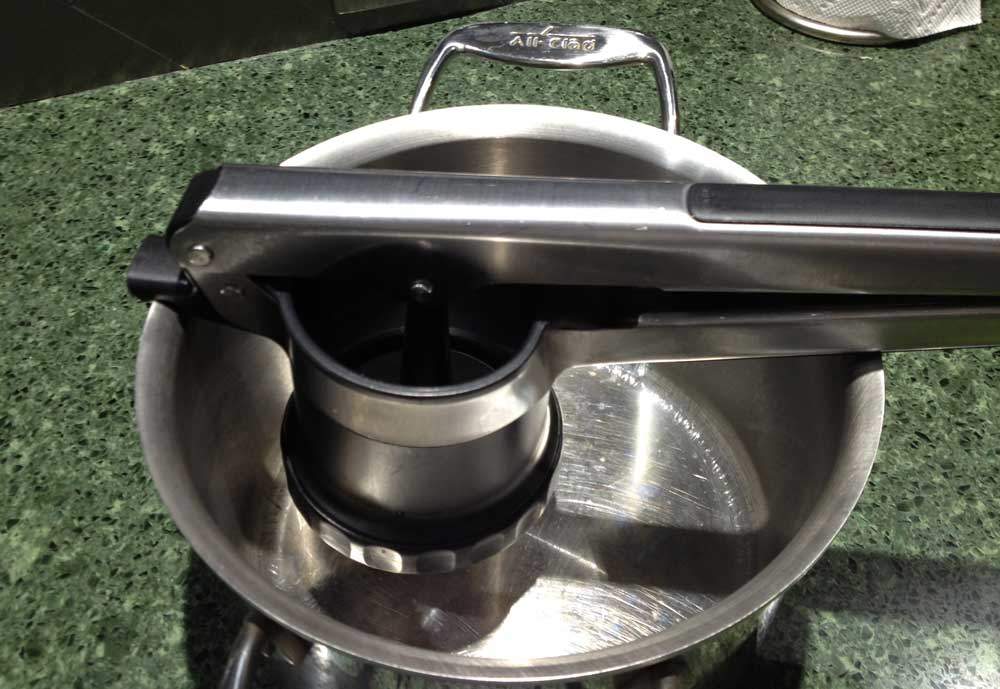 Cons of the OXO Potato Ricer
For all of its good points, the potato ricer does have a few negative aspects. I've mentioned that the disks can be tricky to use, but that's more of an annoyance than anything else. The biggest shortcoming of the unit is the small size of the food hopper. It's only about 3 1/2″ across. When you're making a batch of mashed potatoes for a hungry, angry mob … I mean cherished family members …  you're going to be making a lot of potatoes. When the potato ricer is limited to about 1 1/2 potatoes per squeeze, it's going to take a few passes to get through them all.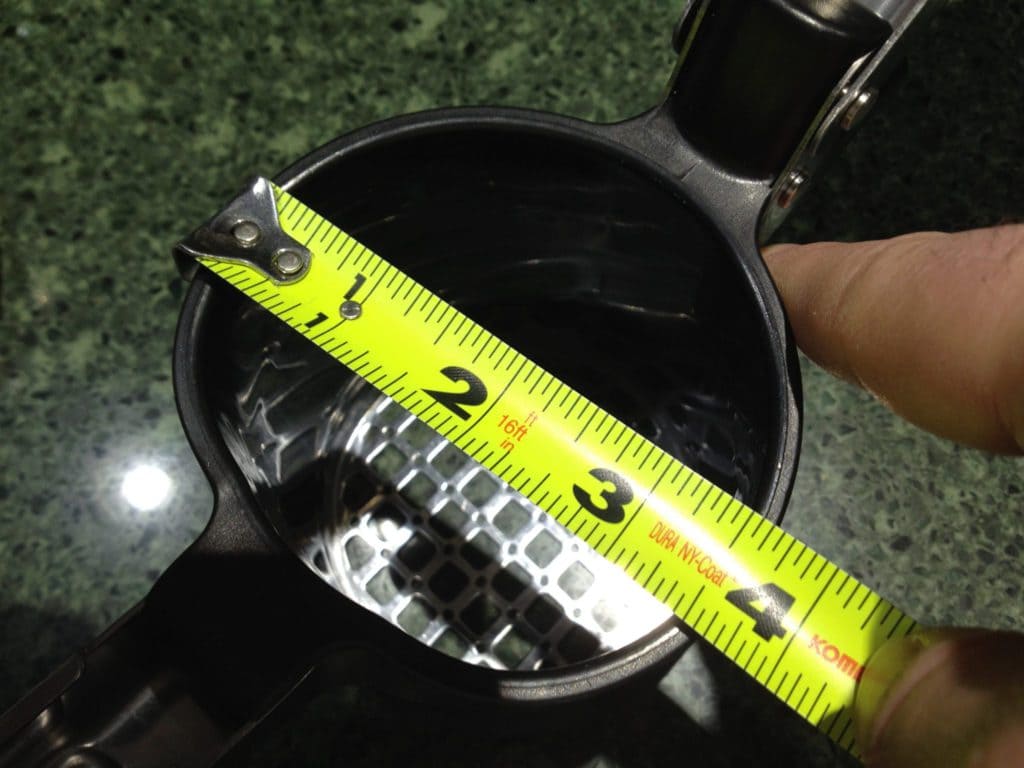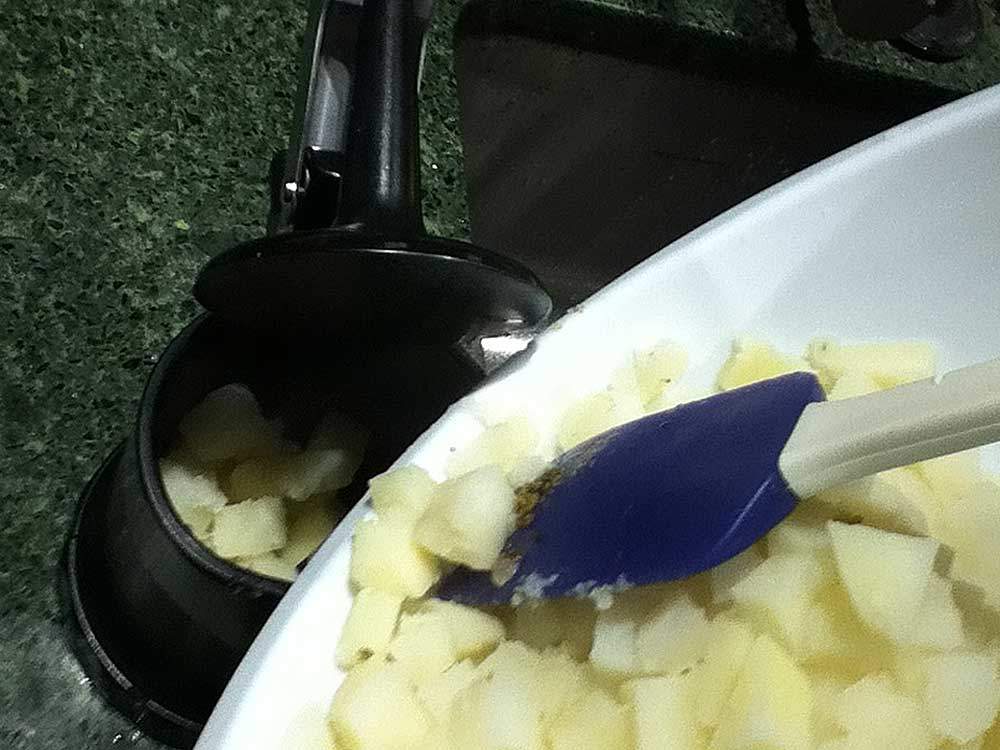 If you read the reviews on some other sites, you'll see a few complaints about disk popping out when people tried to crush food items. To be honest, if you're using it properly, I don't see how that's ever going to happen. To use it properly you need to twist and lock the disk in place; to push the disk out, you'd have to be the Hulk. What is much more likely is some people are frustrated by the tricky way you have to take the disk on and off to clean it, and decide to stop using it. If you use it without the locking disk, it's much more likely you would push the unit apart and the disk would separate.
Conclusions
So, to wrap things up, the OXO potato ricer is a really high-quality kitchen tool that will stand up to years of use in your kitchen. The hook makes it easy to use, and the adjustable head that lets you choose different consistencies gives it a big advantage over many competing products. Where the unit falls short is that you can only work with small batches of food at a time and the disk locking mechanism can be finicky and ornery. That said, this is still a unit I strongly recommend. It's definitely the most durable unit I've ever seen, and it's much smoother and less clunky than the food mill your grandma used. As long as you use it properly and take the time to take it apart and put it back together when you clean it, it will last for years.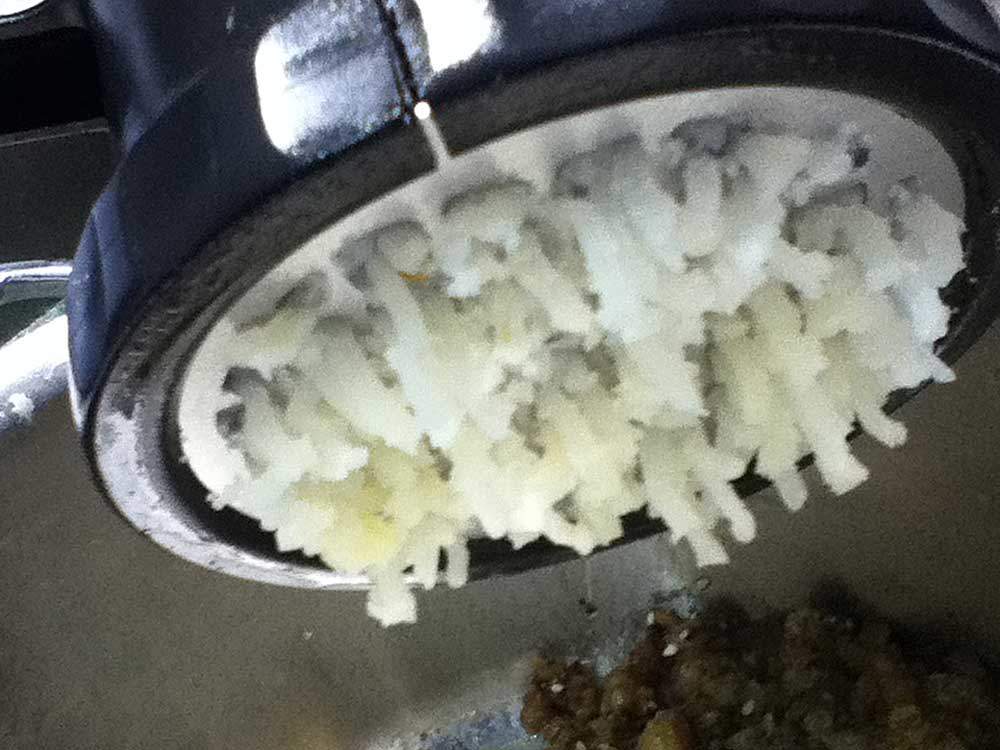 OXO Adjustable Potato Ricer Ordering Information
At the time of this article was written the item was available from Amazon for $29.95 or from other kitchen specialty retailers like Sur La Table or Williams Sonoma.
OXO Adjustable Potato Ricer Review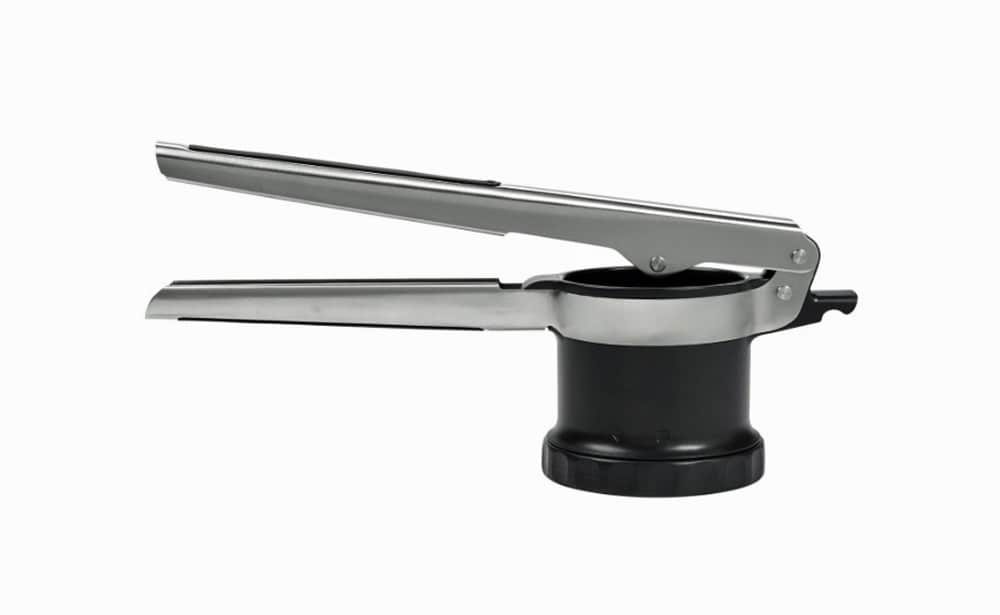 ---
---
Review Summary:
Overall a high quality unit thats easy to use.
Pros
Sturdy durable construction
Easy grip cushion handles
Lip to use over pot or bowl
Adjustable consistency
Cons
Small food hopper
Tricky locking mechanism