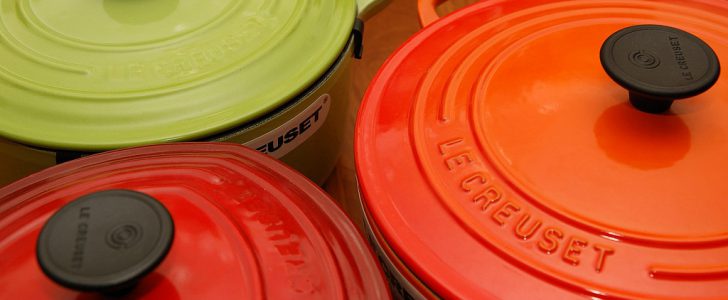 Is Le Creuset Dishwasher safe, the answer is both yes, and no. You can put your Le Creuset cookware in the dishwasher and it will come clean. However, if you put in the dishwasher on a regular basis, you may notice a dulling of the outside color over time. This difference will be more dramatic with bold or more saturated colors, like flame orange. The cookware will still work perfectly, and won't be damaged, it just won't be as attractive as it once was. If you have any Le Creuset cookware with wooden handles, you should avoid putting this in the dishwasher, as this will damage the wood.
Can I Put My Le Creuset in the Dishwasher?
If you have Le Creuset stone bakeware, you can put it in the dishwasher. Again the outside color may fade slightly over time if you put it in the dishwasher on a regular basis, however, the performance of the bakeware will be unaffected.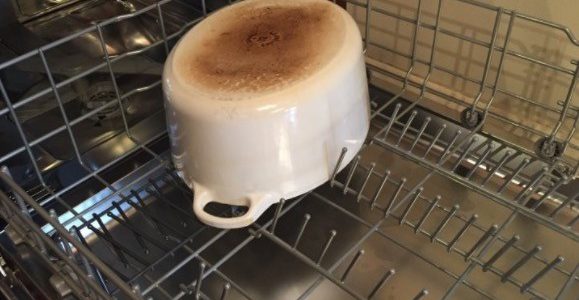 Le Creuset Cleaning and Care
You want to let your Le Creuset cookware cool down before attempting to clean it. Avoid plunging a hot pan into cold water, as the thermal shock could damage then pan, resulting in surface cracks in the enamel finish. To clean food bits are stuck to the pan fill it with hot water and let it sit for 15-20 minutes, before cleaning any further. Use a plastic scraper or brush to remove any stuck on food bits. If you have any tough stuck on food, fill the pan with water and bring to a boil. Then use a large spoon to loosen up any food bits, being careful not to splash and burn yourself.
Clean the pan using a sponge or nylon scrubber and dishwashing liquid. Avoid using any scouring abrasives, steel wool, or metal scrapers. These will leave scratches and dull the finish. If your pan already has the scratches, you can use use the special cleaner. Use a towel to dry the pans, or allow pans to air dry before storing them. Never put away damp pans as this may damage the finish.