Our KitchenAid hand mixer reviews help you choose the right mixer for your needs. We look at power, speeds, attachments, weight, size and more. According to our reviews the
Best KitchenAid Hand Mixer is the KitchenAid KHM926
.
KitchenAid is an American company known for making small appliances. They are probably best known for their stand mixers, hand mixers, and food processors. in 1919 the Hobart Company formed KitchenAid to produce a home version of their popular commercial mixers. Today the company is owned by Whirlpool. Their most popular stand mixer, originally known as the Model K was introduced in 1930's and has changed very little in all that time. To this day any accessories designed for the Model K can still be used.
KitchenAid's hand mixer gives you the same functionality you get from a stand mixer, in a smaller more convenient size. We've reviewed several models and you can compare them in the chart below.
Best KitchenAid Hand Mixer Reviews
Model No.
KitchenAid KHM512 Hand
Mixer
KitchenAid KHM920A
Hand Mixer
KitchenAid KHM7210
Hand Mixer
KitchenAid KHM926
Hand Mixer
Wattage
72 Watt DC Motor
145 Watt DC Motor
150 Watt DC Motor
225 Watt DC Motor
Speeds
5
9
7
9
Speed Boost
–
–
–
–
Readout
None
LED Bars
LED Bars
LED Bars
Ejector Button
X
X
X
X
Standard Beaters
X
X
X
X
Dough hook
–
X
–
X
Wire Beaters
–
X
X
X
Slow-start
–
X
X
X
Cord Control
X
X
X
X
Comfort Grip
–
X
X
X
Storage
–
X
X
X
Warranty
1 Year
1 Year
1 Year
1 Year

Product Specifications

Size
8″ x 3.5″ x 6″
9.4″ x 7.7″ x 5.5″
8″ x 3.5″ x 6″
8″ x 3.5″ x 6″
Weight
2 pounds
3.2 pounds
2 pounds
2 pounds
Brand
KitchenAid
KitchenAid
KitchenAid

KitchenAid

Model Number
KHM512
KHM920A
KHM7210

KHM926

Colors
Boysenberry, Cranberry,
Crystal Blue, Empire Red,
Green Apple, Lavender,
Majestic Yellow,
Onyx Black, Pink,
Tangerine, White,
Watermelon
Chrome, Candy Apple Red,
Black, Empire Red,
White
Chrome, Black, White, Empire Red
Chrome, Black,
Empire Red
Price
$35.00
$95.00
$70.00
$85.00
Rating
Check Prices
Check Prices
Check Prices
Check Prices
KitchenAid Hand Mixers
KitchenAid KHM926 Review
The KitchenAid KHM926 hand mixer is our top choice in the hand mixer category. It has a powerful 225 Watt DC motor, that can power through the toughest bread or cookie doughs, including those with chocolate chips, nuts or other mix-ins. It has a slow start to prevent things from splattering over your counter, with 9 speeds that are displayed on an LED bar graph. The cord has a locking swivel, to prevent the cord from getting in the way or getting dirty. It's not as easy to balance on the counter as some units, but it is one of the lightest at only 2 pounds. Continue Reading KitchenAid KHM926 Review…

KitchenAid KHM926 Review
This unit features a 145 Watt DC motor, with a slow start and 7 speeds. There is an LED bar graph reading letting you know what speed your mixer is running, and features a one-button easy eject for the beaters. This hand mixer is on the lighter side of the models we reviewed weighing only 2 pounds. Another nice feature is the cushion grip built into the handle. Continue Reading KitchenAid KHM7210 Review…

KitchenAid KHM920A Review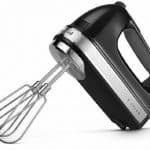 This mixer comes with a 145 Watt DC motor, that has 9 different speeds and slow start function. There is an LED bar graph to tell you your current speed. The handle features a cushioned grip and single ejector button. The unit was on the heavy side of all of the models we reviewed weighing 3.2 pounds. The size of the unit is also slightly bigger than other comparably powered units. Continue Reading KitchenAid KHM920A Review…

KitchenAid KHM512 Review
This is the least expensive hand mixer you can get with a DC motor, DC motors have lower wattage but higher power than AC motors. The unit has speeds controlled with a dial and has a separate eject button. The unit comes with 2 standard beaters and an accessory bag for storage. You can whip cream or egg whites with the standard beaters, it just takes a little more time. Continue Reading KitchenAid KHM920A Review…

Reviewer:
CookingHacks Kitchen
Review Date:
Reviewed Item:
Kitchenaid KHM926
Author Rating:
Related Products

The FoodSaver V4840 Vacuum Sealer is one of the top of the line vacuum sealers that we reviews. It has all of the features that anyone who will be vacuum sealing will need, from the well known FoodSaver brand. This model will make a great addition to any kitchen.
Read our full FoodSaver V4840 Vacuum Sealer review
.
For more information you can check out our Helpful Guides below:
You can see all of our guides from the links below: