Chicken Cordon Bleu is a classic recipe that that became popular in the mid 20th century. It's based on the schnitzel, which comes from Switzerland. Typically, the chicken is either butterflied and the cheese is placed in the middle, or it's rolled up in spiral like a roulade. While both styles of preparation are very pretty to look at, they are somewhat difficult to execute, as you want the chicken to be cooked in the middle without drying out on the outside. This "inside out" version is lot easier to get right.
Start out with 3/4 cup of all purpose flour and season the flour with salt and pepper. Next crack two eggs and stir, then measure out 3/4 cup of seasoned Italian bread crumbs.
Using the flour, eggs, and bread crumbs, set up a 3 tray breading station.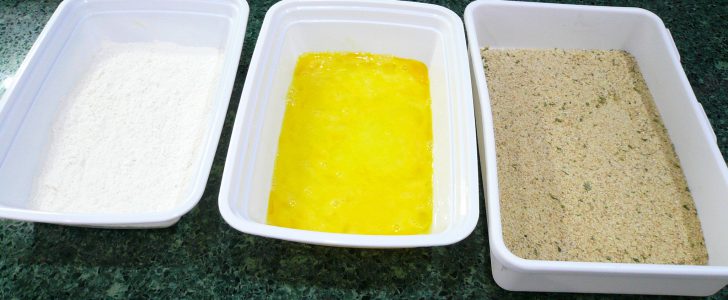 Take your chicken cutlets (make sure you are using thinly sliced cutlets). T trim off any odd-shaped, fatty parts, or any pieces with any tough bits.
Place the chicken in the flour, taking care to get a thin even coating of flour. Be sure to shake off any excess. Next, dip the chicken in the egg wash (again, you want a thin, even coating, so let any excess drip off). Lastly, dip the chicken into the breadcrumbs, going for that thin even coating.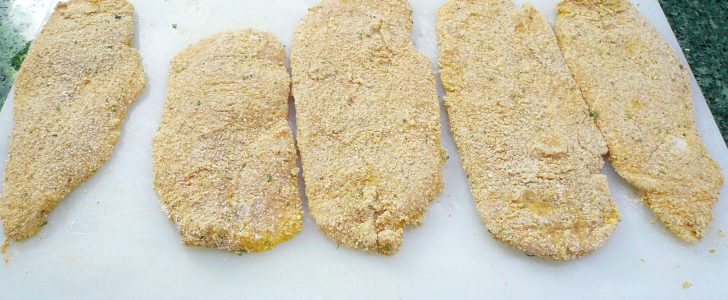 Preheat the oven to 350 degrees. Next heat up some olive oil in a skillet. Once the oil is heated, work in batches, lightly frying each piece till it's golden brown. Take care not to overcook the chicken, which would cause: it's going to spend a little more time in the oven before it's done.
Remove the cooked chicken to an oven safe baking dish. Take a slice of Swiss cheese folded in half and place it on top of the chicken. Then take a slice of prosciutto and wrap it around the chicken, folding both ends under the chicken cutlet so it doesn't unroll. Repeat this for each of the chicken cutlets.
Place the baking dish in the oven and cook 10-15 minutes. You want the cheese to have melted, and the prosciutto to have browned, without the chicken drying out.
Now for the sauce. Heat a small bit of olive oil over medium heat in a medium sauce pan. Add the diced shallot and cook till it starts to turn a light brown on the edges. Take care not to allow the shallot to burn as it will turn very bitter. Add the cream of chicken soup and milk to the saucepan. Using a whisk, blend the sauce until it's an even, smooth, creamy texture. Continue to cook on low heat until the sauce thickens slightly.
Serve the chicken with a drizzle of sauce and parsley for garnish.
Inside Out Chicken Cordon Bleu Recipe
This modern take on a classic recipe is much easier to execute and keeps the chicken moist
Ingredients
¾ cup of all purpose flour, seasoned with salt and pepper
¾ cup of Italian bread crumbs
2 large eggs
4 chicken breast cutlets, thinly sliced
4 slices Swiss cheese, medium thickness
4 slices of prosciutto
olive oil
chopped parsley
Sauce
1 shallot, finely diced
1 (10.5 ounce) can cream of chicken soup
¾ cup milk
Instructions
Measure out your flour, and season it with salt and pepper.
Set up a three stage breading station for your chicken cutlets.
Dredge chicken in flour, lightly coating both sides. Shake off excess.
Dip floured chicken into egg wash, lightly coating both sides. Allow excess to drip off.
Dredge chicken into breadcrumbs, being sure to get a thin, even coating of breadcrumbs.
Repeat for the remaining pieces of chicken.
Preheat oven to 350 degrees.
Heat olive oil in skillet.
Pan fry or sauté breaded chicken in small batches, til golden brown on both sides.
Remove and place chicken in an oven safe baking dish.
Once all of the chicken is cooked, fold one slice of swiss cheese and place it directly on top of chicken.
Wrap one piece of prosciutto around chicken, covering the cheese. Leave the two ends folded underneath the chicken cutlet.
Place baking tray in oven for 10-15 minutes or until cheese has melted.
Heat olive oil in small sauce pan.
Lightly brown diced shallot. Take care not to burn the shallot as it will turn bitter.
Add cream of chicken soup and milk to sauce pan. Use a whisk to mix cream of chicken soup and milk to a smooth consistency over low heat.
Once sauce has thickened slightly, remove from heat,
Drizzle sauce lightly over chicken once you have removed it from the oven.
Garnish with chopped parsley