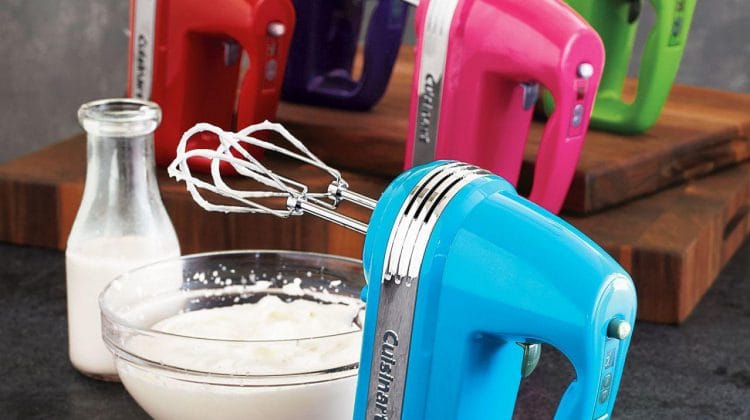 Our Ultimate Hand Mixer Buying Guide can help you learn everything you need to know to before buying a hand mixer. Hand Mixers are the lightweight little brother of the popular stand mixer. They are suited for lightweight cooking jobs or recipes where you don't feel like taking out your stand mixer. These mixers have improved dramatically in the past few years, and the higher quality models can handle most cookie doughs and bread doughs.
Do I Want and a DC Motor or AC Motor in My Hand Mixer
Hand Mixers come with two different types of motors, AC Motors and DC Motors. A unit with a DC motor is always going to be more powerful than a model with an AC Motor. Because the motor is more powerful the internal parts are more likely to be made of metal or more commonly a high impact plastic or nylon. About 10 years ago the plastic/nylon was prone to stripping, this problem has been eliminated, and is not something the home cook should be concerned with. If you do a lot of baking, make thick cookie doughs or bread often you are going to want a mixer with a strong DC motor like the Kitchenaid KHM926, Cuisinart HM-90, or Breville BHM800SIL. If you are only going to use a mixer occasionally a more lightweight model like the Cuisinart HM-50, KitchenAid KHM512, or OXO Handy Mixer is a better choice.
How Many Watts Does My Hand Mixer Need?
Once you determine what type of motor you want the next thing you need to look at is how many watts each model has. The more watts the more power a mixer has. Power on DC motors is completely different than power on AC motors, and there isn't really a way to convert and compare them.
How Many Speeds Does a Hand Mixer Need
The more speeds a mixer has the more flexibility you have when choosing how fast you want the mixers to spin. A 9-speed mixer isn't going to go significantly faster than a 5-speed mixer, it will, however, give you more flexibility in choosing the speed you want. For many 9-speed models, the difference between 1 speed is pretty small, 5-speed models can have a pretty dramatic difference in speeds, and 7-speed models is a compromise in the middle. Speed Boost acts as a quick way to increase your speed, it's not necessary but is nice to have. Speed boost can be found on the Breville BHM800SIL and Cuisinart HM-90. A much more important feature is slow start or soft start. If you've ever tried to use a mixer in a bowl of flour or other dry ingredients and have them go poof and fly all over the counter you understand the problem. Soft start is found on the Kitchenaid KHM926, Cuisinart HM-90, Breville BHM800SIL, and KitchenAid KHM7210.
What Attachments Do I Need on My Hand Mixer
All mixers are going to come with two standard beater attachments. These are general purpose attachments and can be used for everything from whipping cream to mixing cookie dough. The specialty attachments are specifically designed for one type of mixing and make things easier and go little faster. A balloon whisk is used for whipping things like egg whites or whip cream. If your mixer comes with a whipping attachment it will usually come with one balloon whisk. Dough hooks are long metal rods with large gentle curves specifically designed for cookie dough, bread dough or even pizza dough. Most models come with one dough hook, however the Cuisinart HM-90 and Breville BHM800SIL have two.
If you are looking for a mixer with both balloon wire beaters and dough hooks the Kitchenaid KHM926, KitchenAid KHM7210, Cuisinart HM-90, and Breville BHM800SIL come with both. A nice feature of all the Cuisinart mixers is a snap on storage case that holds all of the attachments and cord and snaps onto the bottom of the mixer.
How Heavy Should My Hand Mixer Be?
The size and weight of a mixer is determined by the type of motor and wattage of the motor. Mixers with DC Motors are usually larger and heavier. However, if you are whipping egg whites or mixing a thick dough it's going to take longer and a heavier motor is going to be harder to hold. The Breville BHM800SIL is the heaviest at 4pounds, most mixers will be in the 2 pound range. Choosing a model with a cushioned comfort grip can make it easier to hold. The Breville BHM800SIL, Kitchenaid KHM926, KitchenAid KHM7210, and OXO Handy Mixer have a comfort grip.
Hopefully, this guide has helped you learn what you need to know before making your purchase. Take a look at our chart below to see our vacuum sealer reviews, and learn more information.
Hand Mixer Reviews
Reviewer:
CookingHacks Kitchen
Review Date:
Reviewed Item:
Kitchenaid KHM926
Author Rating:
Related Products
The Gourmia GSV150 is the top of the line Gourmia Sous Model, it has all of the features you need to get started with sous vide cooking without any of the expensive add-ons most people won't use. This is a high quality product that wil last for years to come.
Read our full Gourmia GSV150 review
.
For more information you can check out our Helpful Guides below:
You can see all of our guides from the links below: