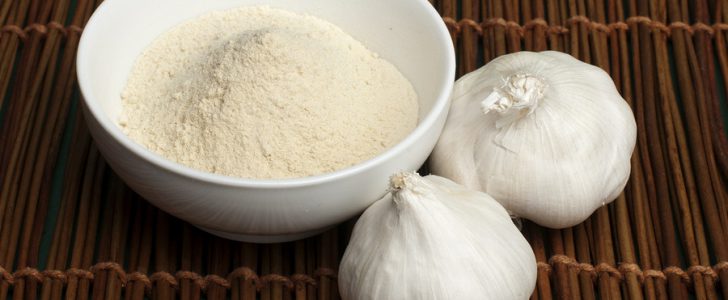 Garlic and garlic powder has been used for centuries for culinary and medicinal purposes. The raw bulbs are known to add heat, pungent aroma, and texture. The shoots/stems, also known as scapes, can be cooked like asparagus and add a light flavor to any recipe. In Asia, the mild flavored leaves are eaten like vegetables and often stir-fried with other vegetables and meats.
Like onions and shallots, this member of the onion family is harvested and dried. In varieties with soft stems, the bulb's stems are braided, and the braids are hung from the ceiling or by the door to dry. Over the years, people's world wide love affair with garlic has lead to the creation of garlic powder.
Garlic powder is ground garlic that has been "dehydrated". Since garlic cloves are made primarily of water, the leftovers after dehydration are very concentrated. However, the leftovers have a surprisingly light garlic taste without the garlic clove texture. The resultant powder is water soluble making it a great choice for liquids and marinades. Garlic powder is a great addition to any food type.
When cooking, garlic powder can be used as a substitute for fresh garlic, garlic salt, garlic juice, garlic flakes, and granulated garlic. The following is a conversion chart for substituting garlic powder for garlic:
1/8 tsp. garlic powder = 1 clove fresh garlic
1/8 tsp. garlic powder + 3 tsp. salt = 4 tsp. garlic salt
1/8 tsp. garlic powder = 1/2 tsp. garlic juice
1/8 tsp. garlic powder = 1/2 tsp. garlic flakes
1/8 tsp. garlic powder = 1/4 tsp. granulated garlic
Over the years, science has shown that garlic has antibacterial as well as antimicrobial properties. Garlic has also presented anti-fungal and antiviral properties. It has been tested and found to contain high levels of vitamin C. Garlic increases thiamin absorption in the body. Science has tested garlic to find it reduces lipids and reduces clumping of platelets in the blood. If added to a high protein diet, science has also proven garlic increases the level of testosterone in rats.
If the aroma of garlic leads to concerns of bad breath, eating parsley will help with the immediate aromatic problems. Water, mushrooms, and basil have been known to help as well. For long term digestive or skin/sweat fragrances, drinking the water and fat combination found in milk has proven to be quite beneficial in reducing garlic's aroma.