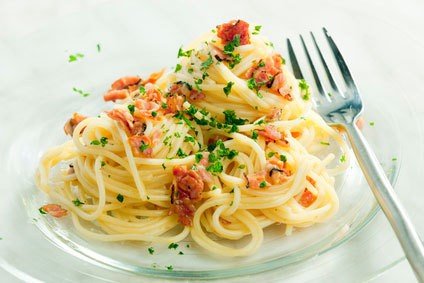 If your favorite dish is spaghetti carbonara, here's a really easy recipe to make this classic dish at home. The key to making sure this comes out as good as your favorite Italian restaurant is very simple once you add the ingredients you just need to turn the heat off!

Easy Mid-Week Spaghetti Carbonara
Ingredients
Spaghetti
Pancetta or bacon
4 oz Fresh Parmesan cheese
2 Eggs
Half and half
Salt and Pepper
Instructions
Cook your spaghetti until its still a little bit chewy. If you have certain family members who prefer certain pasta shapes over others, its perfectly okay to make carbonara with short pasta like penne, too.
In a bowl mix together four large eggs and ½ cup of half and half. Set aside.
Fry up 1 cup of pancetta or bacon. If you're using bacon, make sure it crisps and doesn't burn, drain on paper towel, then cut the bacon into cubes with a knife although scissors works equally well.
When the pasta is done, drain briefly, reserving at least ½ cup if not more of the hot water.
Pour the hot water and the pasta back into the pot.
Add your eggs, pancetta or bacon and the half and half.
Stir briefly but at this point turn off the heat so you don't end up with scrambled eggs. You want the mixture to be silky and creamy.
Plate and grate fresh Parmesan cheese on top along with some freshly ground pepper.
Notes
Dont be intimidated making this dish, its not difficult to control the temperature on the stove and this is a really wallet friendly dish (eggs, pasta, bacon, etc.) You absolutely do need, however to splurge on real Parmesan cheese (preferably a chunk but grated works okay, too) and lots of ground pepper. Also disregard any recipe you find that adds onions, garlic or even peas to this classic dish, it just wont be the same!

If you need a salad to eat with your spaghetti carbonara, some favorites include tomato and cucumber with oil and vinegar and a simple Romaine lettuce with a Dijon mustard vinaigrette.