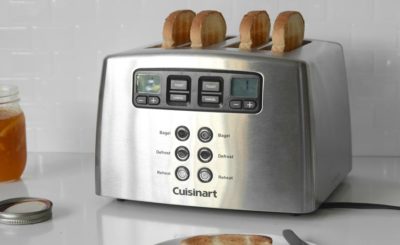 Our Cuisinart Toaster Reviews can help you find the right toaster, with all the features you need, at a great price. Our reviews look at the number of slices, bagel, defrost, reheat and pastry settings. We look at toast shade settings and how evenly each model toasts its slices. We also look at modern features like automatic toast lowering and raising. Use the chart below to see the features at a glance and link to more in-depth reviews.
Based on our reviews the top Cuisinart Toaster is 4 slice Cuisinart CPT-440 Toaster or the 2 slice Cuisinart CPT-420 Toaster. Both are modern toasters with digital features, LED readouts, and have a lever-less design. If you prefer a more traditional design try the 4 slice Cuisinart CPT-640 Toaster or budget-friendly Cuisinart CPT-122 Toaster. If you're interested in other Cuisinart products check out our Cuisinart small appliances page.
Cuisinart Toaster Product Comparrision
Reviewer:
CookingHacks Kitchen
Review Date:
Reviewed Item:
Cuisinart CPT440
Author Rating:
Related Article
Do you need a new hand mixer but don't know where to start? We've written a guide to tell you what features are important and what you should be looking for to help you save time and money in the kitchen
Read our Hand Mixer Buying Guide to learn more
.
For more information see all of our Toaster Related Articles:
You can see all of our guides from the links below:

photo credit: Flickr/Your Best Digs