Cuisinart Product Comparison
Cuisinart HM-90 Review
The Cuisinart HM-90 is one of our highest rated hand mixers. It's 220 Watt motor delivers power through 9 different speeds. Our biggest complaint with the unit is it uses and AC motor instead of a DC motor, a DC motor is higher quality and longer lasting than its AC counterpart. It features 3 slow start speeds, and the controls feature a numeric digital readout, compared to LED bars on other units.
Continue Reading Cuisinart HM-90 Review…
Cuisinart HM-50 Review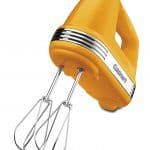 The Cuisinart HM-50 is hand mixer that is best suited to the occasional chef, or shoppers with a smaller budget. This unit has a 220 Watt motor, but is an AC motor, giving it less power and torque. It is a Cuisinart so it is a quality made product. It has 5 speeds which are accessed through a slide dial on the handle, it's a little less precise than many other models. Continue Reading Cuisinart HM-50 Review…

Reviewer:
CookingHacks Kitchen
Review Date:
Reviewed Item:
Cuisinart HM-90S
Author Rating:
Related Products
The Anova Bluetooth Sous Vide is one of our top rated sous vide models, it gives you the combination of cooking power, lots of functionality, reasonable quality, and a great price. It's perfect for someone who is just getting started or some one looking to upgrade.
Read our full Anova Sous Vide Review
For more information you can check out our Helpful Guides below:
You can see all of our guides from the links below: