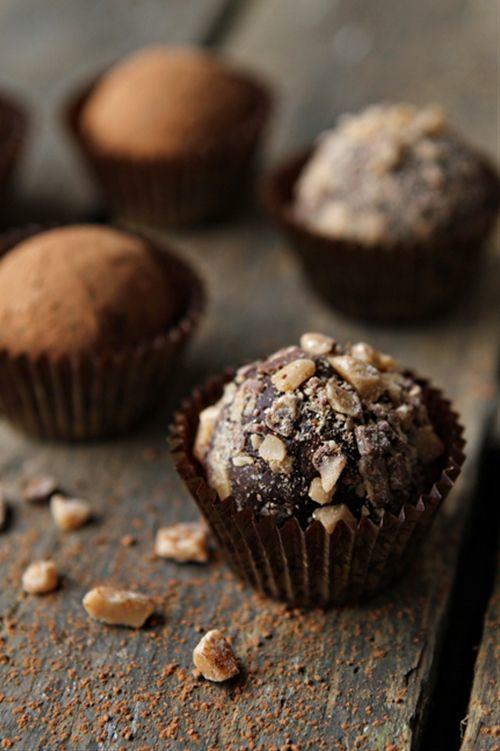 The recipe for these chocolate toffee truffles has circulated cookbooks and the internet for years in several variations, and is one of the easiest ways of treating yourself–your friends and family members, too–to a decadent chocolate treat. I like to make them as gifts–packing a few in a Mason jar or other decorative container. They are rich, so one or two per person is just right.
Chocolate Toffee Truffles Recipe
Ingredients
¾ cup of heavy cream
2 tbsp. butter
4 tsp. of espresso powder (found in the coffee aisle of your grocery store)
10 oz bittersweet chocolate, chopped finely
cocoa powder for coating
chopped nuts for coating
Instructions
Heat cream, butter and espresso powder in a heavy saucepan stirring often. Turn off the heat just before it begins to boil and stir with a whisk.
Pour heated mixture over chopped chocolate and let sit for a minute. Then whisk together until the chocolate and cream are combined, melted and smooth.
Pour the chocolate ganache in a small baking pan. Cool to room temperature and then place in the refrigerator to chill for about 30 minutes. Use a small scoop to form round balls of ganache and place on a wax paper covered baking sheet. Reshape by hand if needed and return to refrigerator to chill for several minutes.
Roll balls in cocoa powder or chopped nuts to coat. (Don't do both…that's overkill!)
Keep refrigerated until serving.
Notes
The refrigeration part of the instructions is essential, because of the cream. For this reason I limit my gift giving of these truffles to locals only. I wouldn't recommend packaging them up and shipping to loved ones who are far away. They do hold their shape and flavor when sitting out on a serving dish for an hour or two, so serve them up at your holiday gathering.

Once you've sampled even a bite of one of these chocolate toffee truffles, you might just decide you're not going to give any of them away.