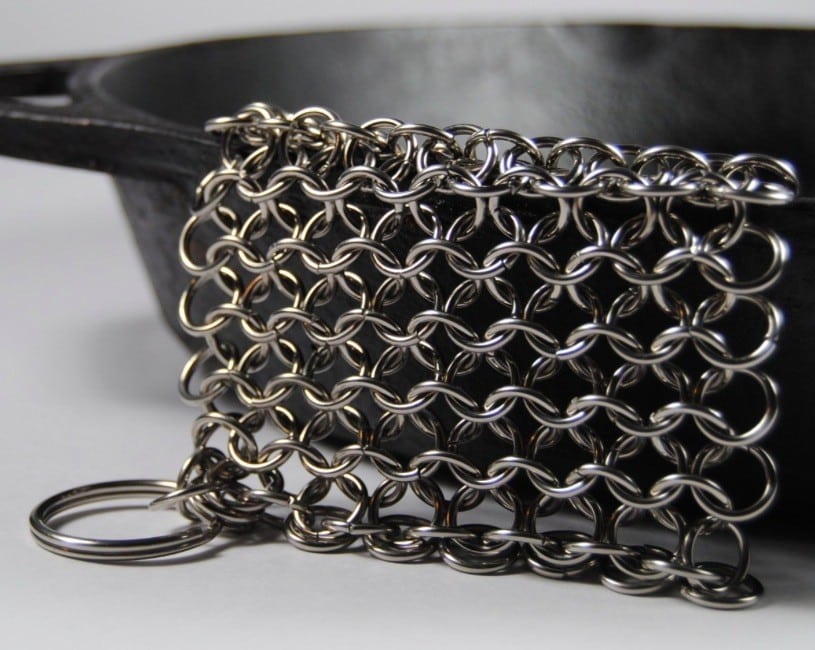 In this review, we're going to take a look at the Knappmade Chain Mail Cast Iron Scrubber. Something I discovered when I switched to an induction cooktop, was how much better cast iron cookware performed compared to stainless steel/aluminum core cookware like All Clad. I love enameled cast iron like Le Creuset. But unless you are Elmer J. Fudd Millionaire, your most economical choice for cast iron cookware will be from Lodge. While non-enameled cast iron is really great at giving you that golden delicious brown crust you want, it's kind of a pain in the butt to clean and re-season. Especially if you use it on high heat. Thankfully this chain mail cast iron scrubber makes a tough job a lot easier.
Knappmade Chain Mail Cast Iron Scrubber
If you look at the product, you'll see it looks like a piece of chain mail straight out of a middle ages.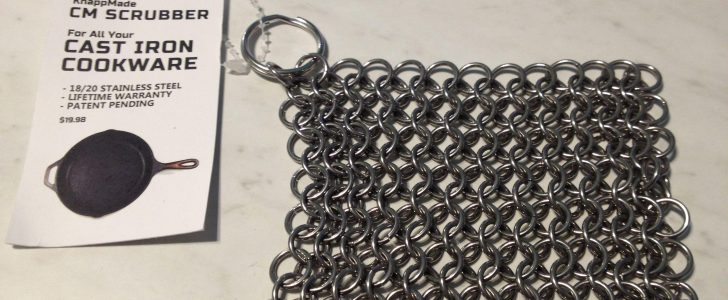 If you read some early reviews, you'll see comments about the rings not being fully closed. That appears to have been a quality problem that they solved. The item I got was very high quality and virtually indestructible–but more about that later.
The best way to use this is to start with a dirty cast iron pan.
Using Your Chain Mail Cast Iron Scrubber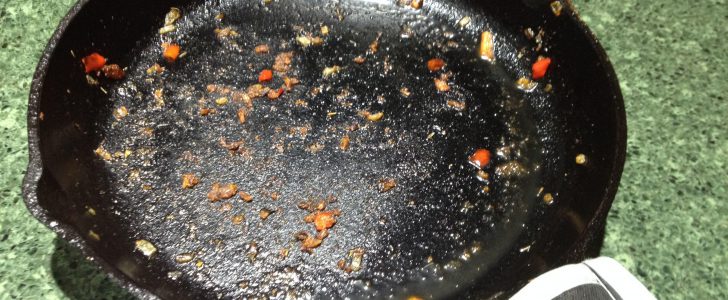 Start by running the pan under hot water to loosen things up. Use one of those hard plastic scraping tools to remove the big stuff.
For the love of all things that are good and holy in this universe, don't ever use a sponge/dobie pad. And if you even think about using soap on cast iron pan, prepare for a gun fight at high noon. Here in the civilized world, we don't engage in that kind of behavior … EVER.
Now leave just a little bit of water in the bottom of the pan to act as a lubricant and start scrubbing. Use the cast iron chain mail scrubber to remove any of the really crusty baked on bits that didn't loosen up with the hot water and scraper.
You could skip the plastic scraper if you wanted to, but then you would have to clean a lot more crusty food crumbs from inside the chain mail rings. Next, remove your cast iron pan from the sink and dry it completely with a clean paper towel or kitchen towel. You really want to make sure you get ALL OFF THE WATER OFF. If you don't, rust will happen, and rust doesn't taste good. I like to give my pans a few minutes to air dry and make sure I didn't miss any water spots. Once you're sure it's all dry, you can re-season the pan. You can use lard, bacon fat, crisco or whatever other seasoning you prefer.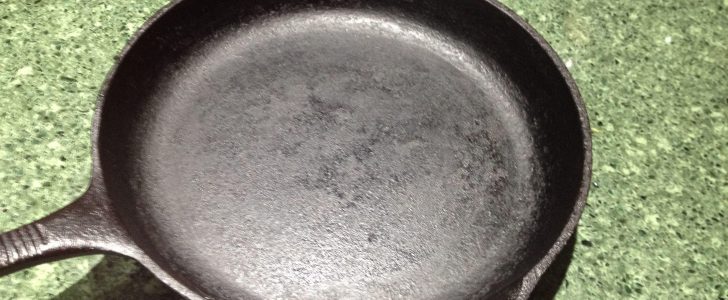 Durability of the Chain Mail Cast Iron Scrubber
Now if you had asked how durable this thing was a few months ago, I would have told you it would have taken King Arthur's legendary sword Excalibur to damage to this bad boy. Turns out I was wrong. All it took was one person not paying attention. I accidentally dropped of the scrubber into the sink when the garbage disposal was running. After a few seconds of screaming accompanied by the sounds of grinding metal, this is what emerged.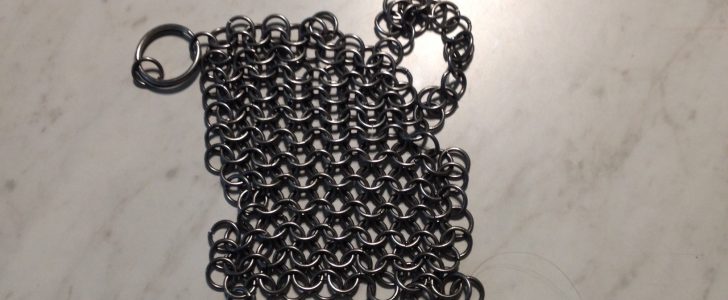 It took some damage and looks pretty gnarly. Once I removed the damaged rings with a pair of needle nose pliers, it worked just as well as did before it met the blades of doom. So having seen how this really can take some punishment and still work, I can honestly say I have no reservations about recommending this product.
At the time this review was written, the chain mail cast iron scrubber was available from Amazon for $19.95. It is pricey for what it does. However, it probably will last you a lifetime. Even if you do drop it down the garbage disposal.
Chain Mail Cast Iron Scrubber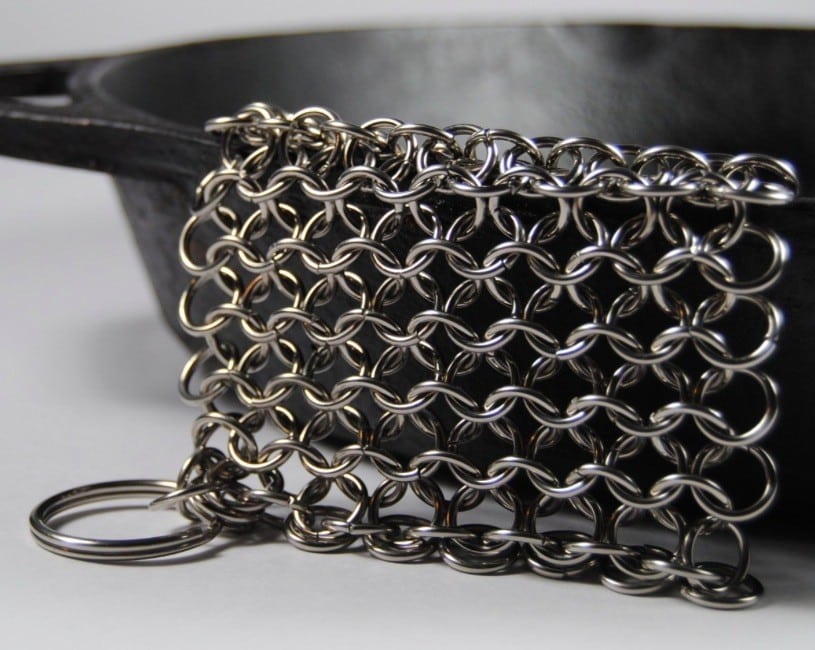 Editor Rating

Outstanding
$19.95
---
---
Review Summary:
This Chain Mail Cast Iron Scrubber is a high quality, durable, and easy to use pot scrubber for cleaning up tough cast iron cookware.
Pros
High quality and very durable construction
Easy to use
Cons
Pricey for a pot scrubber