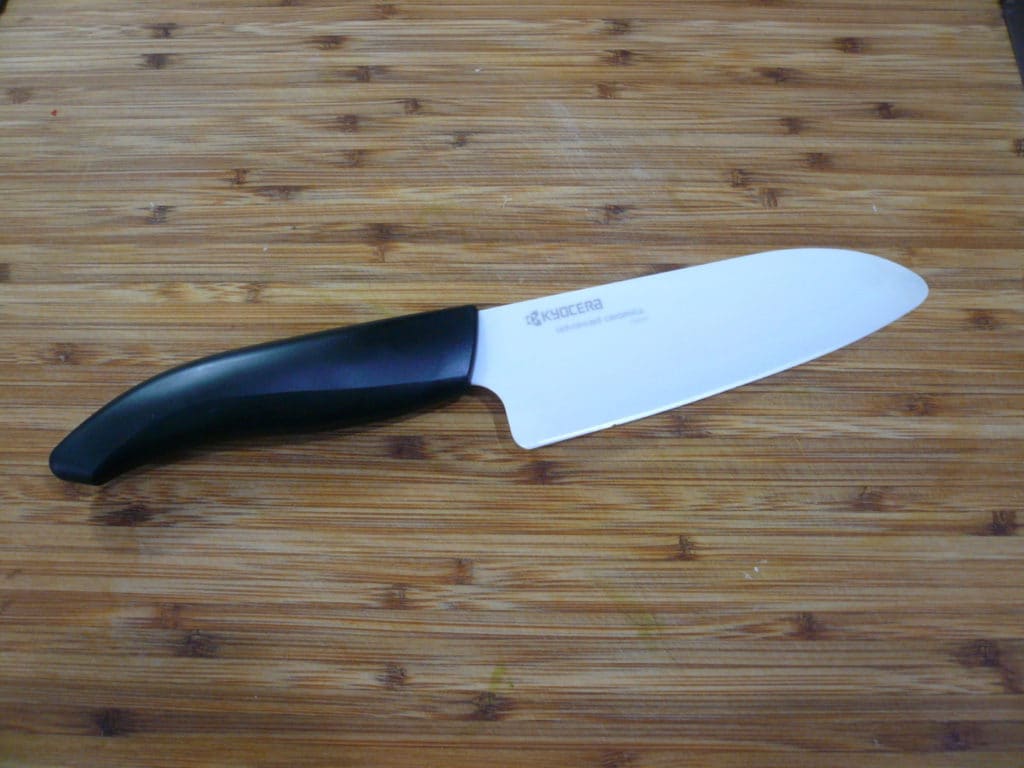 Ceramic Knives are a fairly exotic kind of kitchen knife, and something I have had my eye on for quite some time. However, I held off on making a purchase, because most of the reviews I read were pretty mixed. But once I tried using one in my Learn to Cut Like a Pro Class, I knew it was something I really loved.
Uses for a Ceramic Knife
A ceramic knife is definitely a specialty knife. It's not the right knife for everyone. For starters, it's less bulky and a lot lighter than a standard knife. To give you some idea of what I'm talking about, look at the picture of a standard European style santoku knife compared to a ceramic santoku knife. Notice how the handle, the bolster, and the blade are a lot thicker and more substantial on the European style knife.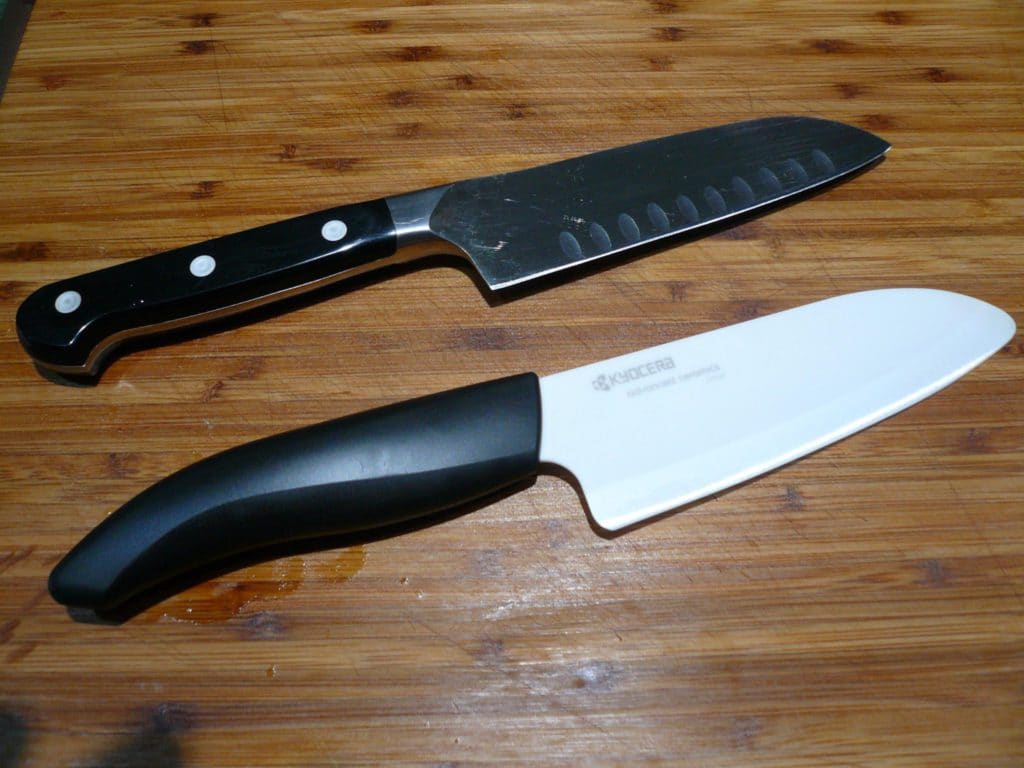 If you put them both on a scale, the European stainless steel knife weighs 170 grams and the ceramic knife weighs 88 grams The ceramic knife weighs about half of what the stainless steel knife weighs. The best thing about ceramic knives is that they are extremely hard. In fact, it's so hard that the blade never gets dull and never needs to be resharpened. Ever. Really. Mine is just as sharp as the day it came out of the box, and it's a breeze to julienne, slice, dice or brunoise (that's a fancy kitchen term for finely diced) your way through vegetables as you can see in the video below:
Caring and Cleaning for a Ceramic Knife
While ceramic knives are very hard, they are also very sensitive to impacts (the same way that diamonds are very hard, but if you hit one with a hammer or against a hard piece of stone–like the edge of a counter– the impact will chip or shatter it). ** UPDATE SEE END OF POST **. This is really the biggest drawback to a ceramic knife: if you use the edge of the blade to bash and peel a piece of garlic, it will likely crack. If you use the edge to stab and twist out an avocado pit, it will probably crack. If you put it in your dishwasher where it will bang against forks and knives, it will probably shatter. And don't even think about using it on anything frozen, semi frozen, or with bones in it. It simply won't survive intact. In fact, I sometimes hesitate if I'm going to use it on really hard carrot or potato. That said, it's very easy to clean with just some hot water and a mildly soapy dobie sponge.
Pros of a Ceramic Knife
A ceramic knife is like an exotic sports cars: extremely good for a very specific set of uses. If you're slicing or cutting up vegetables or even soft soft fruits like tomatoes, there simply is no better knife than a ceramic knife. It's extremely sharp which gives you a lot of control over how you cut. You can slice things as thick or as thin as you want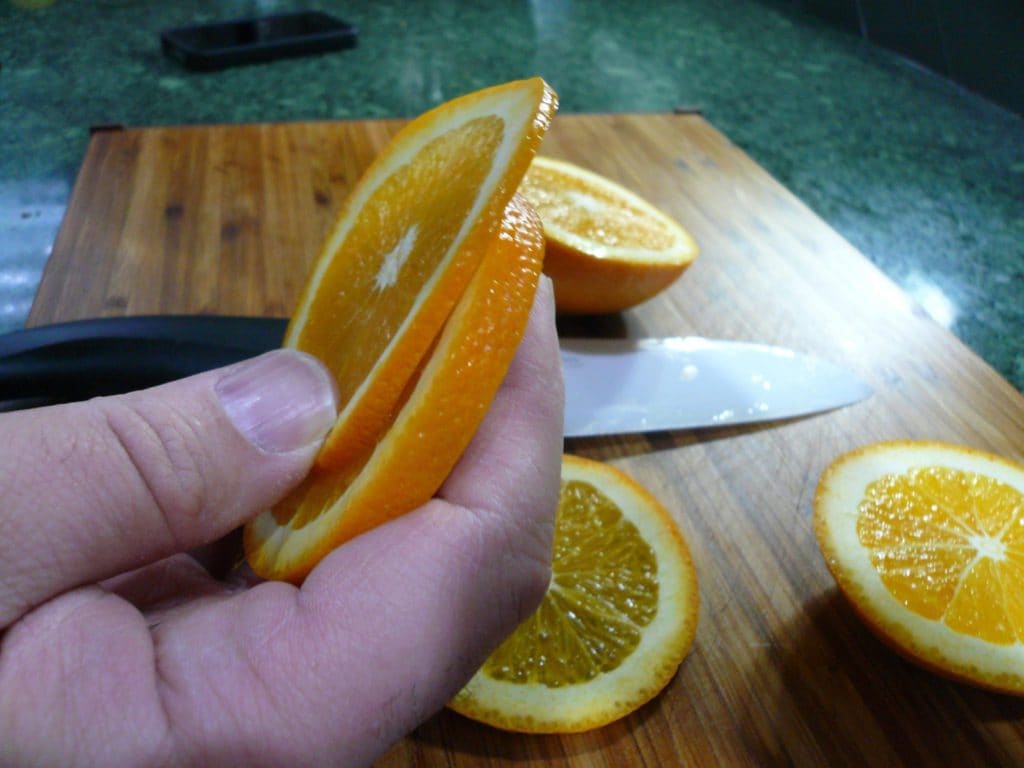 Because it's extremely lightweight and maneuverable, you can easily work your way through a lot of produce in no time at at all without getting tired. When you are working with something like onions, it's really easy to achieve a very small dice, which gives you a lot more control over the flavors.
Click Pictures Above to Enlarge
Cons of a Ceramic Knife
As I stated above, the biggest drawback is how fragile and delicate a ceramic knife can be. You really need to be careful and think about how you are using it and what you are cutting through. You also have to be really careful not to accidentally bang it into anything or drop it. I've dropped mine a few inches on a stone countertop with no damage, but if I dropped it onto a tile floor, I'm not confident it would survive intact.
Conclusions
While I really love my ceramic knife, and it's one of my most-used kitchen tools, it's a delicate item and probably not for everyone. If you are only cutting through soft to medium hardness items, you will be fine. However, if you cut through things that are harder, might be frozen, or have bones, or if you want to use the flat side of the blade, this is going to have to be your secondary blade.
Ordering Information
At the time of this article was written, the 2 piece set was available from Amazon for $64.95 or from other kitchen specialty retailers like Sur La Table or Williams Sonoma.
Update
In case you were wondering, here's what a chip looks like in a ceramic knife.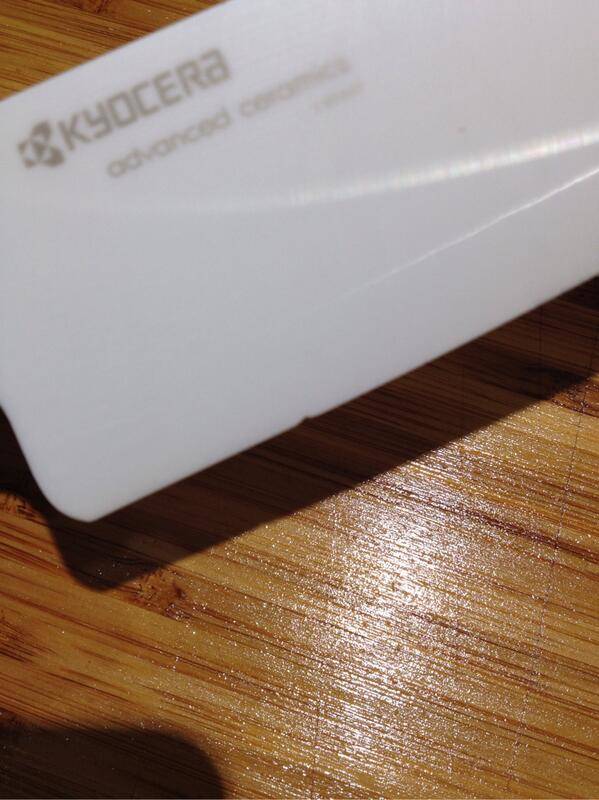 To be honest, I'm not sure how it happened. I really do try to be extra careful with it. The small chip doesn't affect cutting yet, but I imagine it's the first of more to come.
Ceramic Santuko Knife set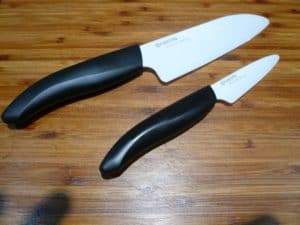 ---
---
Review Summary:
A ceramic kitchen knife is a specialty kitchen item that is best suited to cutting lots of soft fruits and vegetables.
Pros
Extremely sharp edge that never needs to be sharpened.
Lightweight and very easy to use.
Very easy to clean.
Cons
Very fragile to impact or twisting movements.
Not dishwasher safe.
Not recommended for hard, frozen or items with bones.