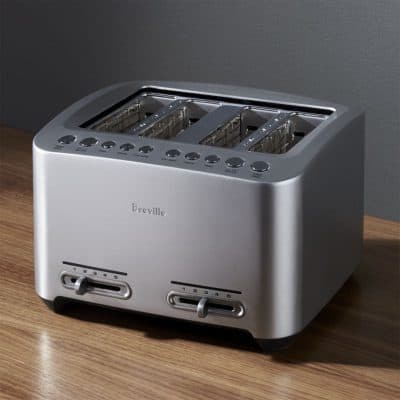 Our Breville Toaster Reviews can help you find the right Breville toaster that best matches what your needs. Our reviews look at the number of slices, the width of toaster slots, type of controls, bagel, frozen and defrost settings, countdown timer, high lift lever, material, construction, cord storage, and more. You can see our comparison chart featuring all Breville models below which has links to more in-depth reviews. You can also find links to the instruction manuals for all of the Breville toasters we reviewed below as well.
Based on the reviews our top recommendation is the Breville BTA720XL, it's combination of values at a good price make it the best value for your money. This 2 slice toaster features Breville's unique "A little bit more" feature. This feature enables you to push a button and send your toast down for an additional 30 seconds, we were surprised at how much we appreciated this feature. If you're looking for the top of the line model we recommend the Breville BTA840XL. This four-slice model has all of the features that you could want in a modern toaster and has the high quality that you expect from all Breville Products.
Breville Toaster Reviews
Using the chart below you can compare all of the features and capabilities of the different models of all of the Breville toasters. Use the links at the top of the columns to read in-depth reviews.
MODEL

Breville BTA720XL Review

Breville BTA820XL Review

Breville BTA840XL Review
Number of Slices
2
2
4
Wide Slots
Yes
Yes
Yes
Controls
Slide – Push Button
Slide – Push Button
Slide – Push Button
Toast Shade Settings
5
5
5
Bagel Setting
Yes
Yes
Yes
Defrost Setting
Yes
Yes
Yes
Countdown Timer
Yes – LED
Yes – LED
Yes – LED
High Lift Lever
Auto
Auto
Auto
Crumb Tray
Yes
Yes
Yes
Reheat
Setting
Yes
Yes
Yes
Cord
Storage
Yes
Yes
Yes
Power
900 Watts
900 Watts
1800 Watts
Exterior
Material
Metal
Metal
Metal
Colors
Stainless Steel
Stainless Steel
Stainless Steel
Warranty
1 Year
1 Year
1 Year
Manufacturer
Breville
Breville
Breville
Model
Number
BTA720XL
BTA820XL
BTA840XL
Specifications
Weight
4 pounds
2.65 pounds
9.48 pounds
Size
11.2 x 8 x 7.8 inches
13.2 x 8.2 x 9 inches
13.2 x 13.2 x 9.2 inches
Instructions Manual
Ratings
Price
$80.00
$126.00
$172.00
Check Prices
Check Prices
Check Prices
Reviewer:
CookingHacks Kitchen
Review Date:
Reviewed Item:
Breville BTA720XL
Author Rating:
Related Article
Le Creuset is one of our top rated lines of cookware, since their pieces are such high quality and last so long they are often handed down without any paperwork. Here's our handy guide to identifying which size Le Creuset pan you may own
What Size is My Le Creuset
.
For more information see all of our Toaster Related Articles:
You can see all of our guides from the links below: