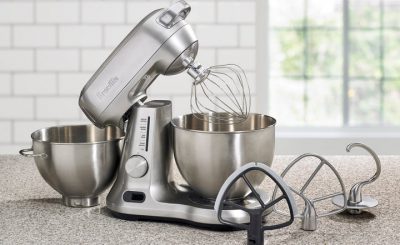 Breville is a small appliance brand manufacturer that sells products in over 30 countries around the world. The name of the company comes from a combination of the two last names of the original owners Bill O'Brien and Harry Norville. The company was formed in Australia in 1932 and got it's start selling radios and mine detectors in radios for World War II. The company started manufacturing small appliances in 1956 and entered the US market in 2002.
Today Breville is known for creating high-quality durable products with innovative design features. The company has huge research and development division that holds over 100 patents, and an internationally recognized design team that has won over 45 different awards. Thier food processors the Breville Kitchen Wizz was launched in 1977, and their juicer was the subject of a 2011 Netflix documentary wFat, Sick and Nearly Dead that exposed the brand to millions of new customers around the globe.
Breville website, contact information, social media profiles,
and more.
We have reviewed Breville appliances from the following categories:
Visit the Breville Instruction Manuals if you're looking to replace a lost manual.
Breville Product Reviews
Reviewer:
CookingHacks Kitchen
Review Date:
Reviewed Item:
Breville BTA720XL
Author Rating:
Breville Products Reviews