If you've ever met me in real life, you know that I'm a big Disney World fan. Ond one of my favorite special events to attend is the Epcot Food and Wine Festival. One of the classic recipes that makes an appearance almost every year is the Canadian Cheddar Soup. While it's really good soup, I've always felt it lacked that stick-to-your-ribs, OMG-that-was-so-good, I-can't-believe-I-ate-so-much quality to it. I've been playing with the recipe for a number of years. After much experimentation, I found that I could achieve the result I was looking for by adding baked potato and few other ingredients.
Here's a quick picture of all the ingredients your going to need. The full list and amounts are listed at the bottom. Note that the celery is missing from the picture. I could give you a long, crazy story about being attacked by celery-loving Ninjas…but honestly, I just forgot them before I got started.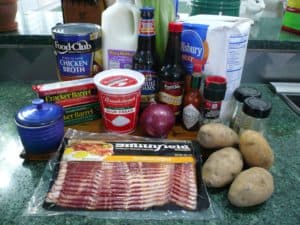 Step one: wash your potatoes, prick them in a few places with a fork, and wrap them in some aluminum foil. Bake them in an oven at 350 degrees for about an hour. Once the potatoes are soft when you squeeze them, take them out and let them cool.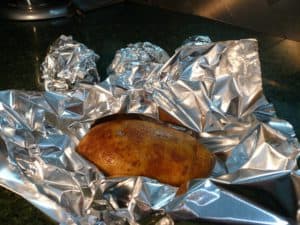 Next you should dice up your red onion. Because red onions can be a little more intense than normal onions, I like to go with a very small dice.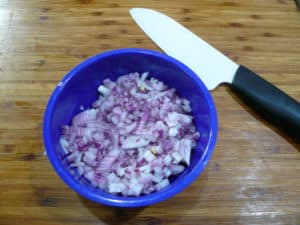 Next, dice up the celery. I didn't want to have big, chunky pieces in the final product, so again I went with a very fine dice.

Next, you'll want to use a large heavy dutch oven or stock pot. I was making a double batch for a church charity dinner so I used a very tall stockpot, but for a single batch, something in the 6 quart range would be perfect. Start heating up the pan and add the bacon slices.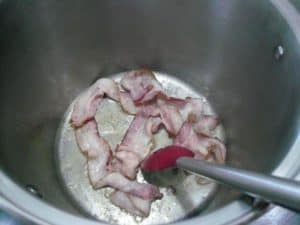 Using medium heat continue to cook the bacon until it's GBD (that's Golden Brown and Delicious to you).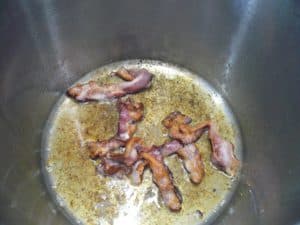 Remove the bacon and allow it to cool.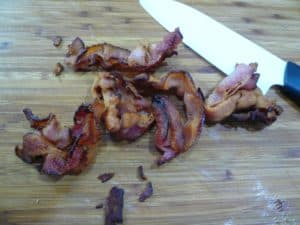 Once the bacon has cooled, you want to chop it up into small, bite-sized pieces. Divide the bacon in half. Half will go into the soup, half will be used for garnish.

Leave all the delicious bacon fat in the bottom of the pan and use it to brown the celery and onion.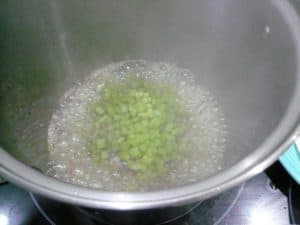 Next, add in all the flour and about half of the chicken stock. Whisk the ingredients together until it forms a roux (sort of a goopy, liquid paste).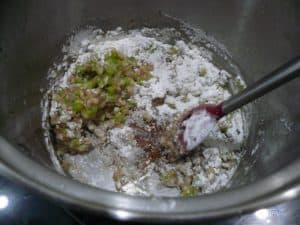 The mixture will start out being a very light brown color. Cook it for 20-30 minutes on medium heat until the mixture starts to darken.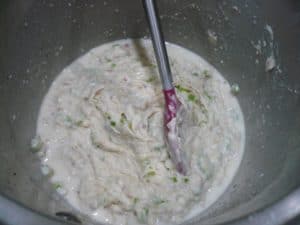 It's a little hard to see the color change from the picture, but you can see how the mixture has thickened up. You don't want it to get too brown, but you do want some color: where there's color, there's flavor.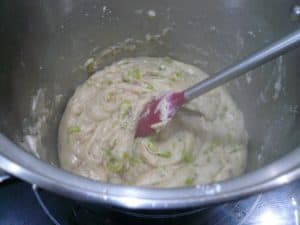 Next add in half of the milk. This will lighten the color and make the mixture a lot more liquid.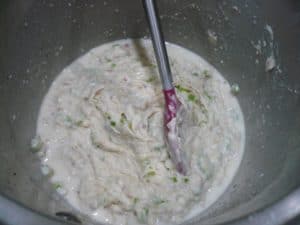 Once you have mixed everything up until it's nice and smooth, let it simmer for about 10 minutes. Then mix in the cheeses, sour cream, tobacco sauce, Worcestershire sauce, salt, and pepper.

Lower the heat a bit and stir slowly until the cheeses are melted and fully incorporated.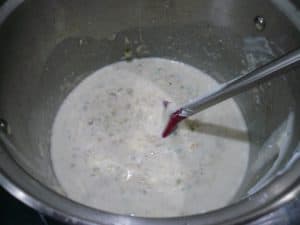 While the mixture is simmering, cut the potatoes in half and scoop out the insides.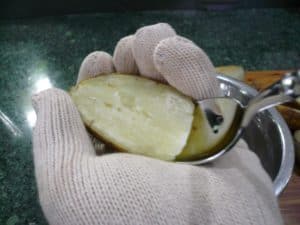 Once you have potato scooped out, use your spoon to break up the potato into small, bite-sized pieces.

Then add the potato into the soup mixture.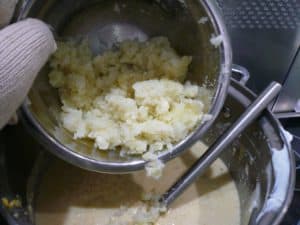 I like to add a 12 ounce beer to my soup because I feel it gives it a much deeper, more complex taste. Depending on how you feel about alcohol, the beer is optional.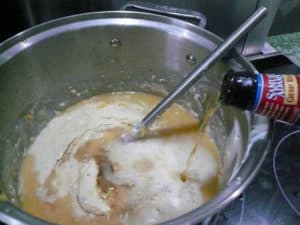 Next, you'll want to use an immersion blender.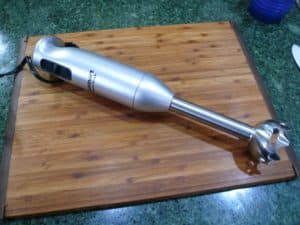 Blend the mixture until the chunks are very small. If you like a smooth, creamy soup, keep blending until there are no chunks of potato. I prefer mine with small chunks, so the final consistency is up to you. Alternate adding the remainder of the stock and the milk, pulsing with the blender until you get the thickness you like.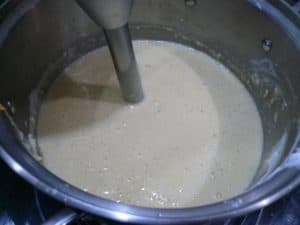 Take half of the reserved bacon bits and mix them into the soup. Add salt and pepper and adjust your seasonings to get the final flavors to your liking. You can hold the soup here on a very low temperature.
To serve the soup, I like to use small bowls or ramekins and ladle the soup in. Sprinkle some of the reserved bacon bits on top and garnish with chives or a small dollop of sour cream.

Baked Potato & Cheddar Cheese Soup Recipe
A hearty soup that is tasty and will leave you full.
Ingredients
4 potatoes, baked
½ pound bacon
1 red onion, diced
3 sticks celery, diced
1 cup flour
3 cups chicken stock
2 cups milk
1 cup sour cream
½ pound cheddar cheese, white
½ pound cheddar cheese, yellow
1 teaspoon tobasco sauce
1 tablespoon worcestershire sauce
1 beer (optional)
salt & pepper
1 bunch chives
Instructions
Wash potatoes and poke with a fork. Wrap in aluminum foil and bake at 350 for 1 hour or until potato is soft.
Place bacon in a large stock pot or dutch oven. Cook over medium heat until browned. Set aside to cool & crumble.
Brown onion and celery in bacon fat.
Whisk in flour and half of chicken stock until it forms a smooth roux. Cook for 20-30 until roux has started to darken. Gradually stir in half milk, whisking constantly until smooth.
Reduce heat and simmer 10 minutes. Mix cheeses, sour cream, tobacco sauce, worcestershire sauce, and salt and pepper. Keep on low simmer, adding milk and stock if needed to melt cheese.
Scoop out the insides of cooled potatoes and break into small chunks. Add potato to soup adding milk and chicken stock to keep mixture liquid. Use an immersion blender to integrate potato into soup.
Keep soup on low temperature and mix in ¾ of crumbled bacon. Season with salt and pepper and adjust seasoning to taste.
Serve with chives and crumbled bacon for garnish
Nutrition Information
Serving size:
1 bowl
Calories:
295
Fat:
32
Saturated fat:
21
Unsaturated fat:
11
Carbohydrates:
58g
Sugar:
12G
Sodium:
791mg
Fiber:
3g
Protein:
30g
Cholesterol:
108mg
x