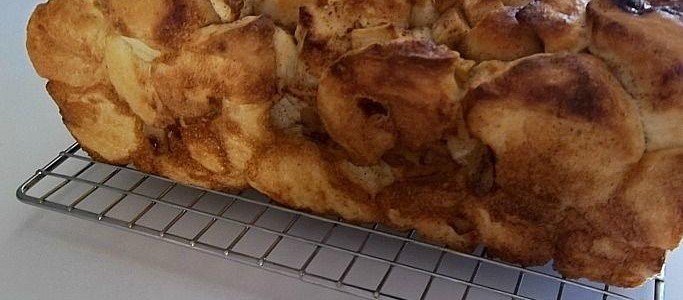 This apple cinnamon strudel bread is perfect for chilly winter mornings and is an excellent option for enjoying with coffee.
Apple Cinnamon Strudel Bread
Ingredients
Dough:
3 cups flour, divided
⅓ cup milk, warm
¼ cup water, warm
¼ cup sugar, divided
4 tablespoons butter
2 large eggs, lightly beaten
2¼ teaspoon active dry yeast
½ teaspoon vanilla
½ teaspoon salt
Filling:
2 cups apples, peeled, cored, sliced
½ cup brown sugar
4 tablespoons butter, melted
1 tablespoon flour
1 tablespoon cinnamon
½ teaspoon vanilla
¼ teaspoon nutmeg
sea salt
Instructions
For the dough: whisk together water, 2 tablespoons sugar and yeast in a small bowl or glass, and set aside for 5-10 minutes. If mixture does not froth and bubble up, discard and start again.
In a medium bowl, combine butter, milk and vanilla, and mix together.
In a separate large bowl, mix together 2 cups flour, remaining sugar and salt. Then add butter and milk mixture, yeast mixture and eggs. Mix well until dough begins to form.
Add in another ½ cup flour and mix until sticky dough ball begins to form.
Transfer to a lightly greased bowl, cover with plastic wrap and place in a warm, draft-free place for 60-90 minutes, or until doubled in size.
Punch down dough, either in bowl or on countertop, and add remaining flour. Mix in and set aside 5 minutes. (Or refrigerate overnight, if making dough ahead of time.)
Line a 9.5-inch loaf pan with parchment paper and, in a medium bowl, combine apples, sugar, flour, cinnamon and nutmeg for filling. Toss well so apples are coated.
Mix together melted butter and vanilla in a separate bowl or glass.
Turn dough out onto a lightly floured surface and roll into a 12x20-inch rectangle.
Brush thoroughly with vanilla butter and evenly spread apple slices out on the dough. Then sprinkled with remaining cinnamon filling mixture.
Using a very sharp knife or pizza/pastry cutter, cut dough into 6, 3 1/212-inch pieces.
Stack the 6 pieces on top of one another and cut stack evenly into another 6 pieces.
Take the sliced sections, turn them on their sides and place them in the loaf pan, one in front of the other.
[If apple slices or filling falls out, just tuck it back in or sprinkle it over the top of the loaf once you've assembled the rest of it.]
Cover loaf pan with a clean kitchen towel and let dough rise another 30-60 minutes, or until doubled in size (again). Preheat oven to 350º F.
Place the strudel bread in center of oven and bake for 40-50 minutes (covering with foil after 30 minutes), or until deep, golden brown.
Remove from oven and let cool for 15 minutes, then lift parchment paper out of loaf pan and let cool completely.
Sprinkle sea salt over the top of the apple cinnamon strudel bread before serving.